A delighted Declan Rice said the U23s' hard work throughout the season paid off on Tuesday
The skipper's team sealed promotion to Premier League 2 Division 1 after a Play-Off Final win over Newcastle United at St. James' Park
Toni Martinez's double gave the Hammers the win in what has been, according to Rice, his best season in football
West Ham United U23 captain Declan Rice said winning promotion to Division 1 on Tuesday via the play-offs capped off his best season in football.
The centre-back, who has been on the substitutes' bench for the first team a number of times this season, led the Hammers youngsters to victory over Newcastle United to seal their place in the top division of Premier League 2 ahead of next campaign.
Terry Westley's team were made to come from behind in the Play-Off Final after Tom Heardman gave the hosts the lead, but with Spanish forward Toni Martinez back in the team, there was no trouble for the Hammers as the striker scored twice to make it 2-1.
And Rice – along with the rest of the back line – stood strong under immense pressure in the final half an hour to see out the win and eventually celebrate a superb season for the U23s.
"It literally feels amazing – the best feeling ever," the captain said after the win at St. James' Park. "I can't put it into words. First half, we weren't that good – we were all a bit nervous and tense but second half, we came out and showed exactly what we're all about.
"We grafted hard and managed to get the 2-1 win through Toni.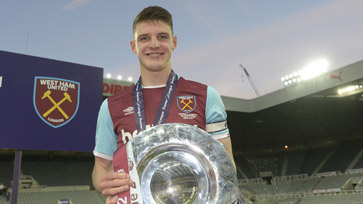 "It's always been my dream to be a captain and tonight to lift my first trophy as a player, it's a dream come true.
"It definitely caps off a great season. It's probably the best season I've had in football and it's probably one of the best days of my life; I'm just so happy!"
The promotion tails a long, hard season for the Premier League 2 outfit, who had already faced Peter Beardsley's Magpies twice in the north east this season before Tuesday's visit.
And Rice admitted the reward of lifting the Play-Off trophy made all that hard work worth it.
"If you think about it, it's probably our 20th game or more, maybe 30 for those who have played international football, so towards the end it was getting tiring but we worked hard.
"Fair play to Terry [Westley] and Liam [Manning] who, every day, are working us very hard and it's paid off tonight.
"Toni said before the game that he better get a good massage, and I'm going to score two!
"He said if I get a bad massage, I won't score, so he came back and he got two goals! I'm well happy for him, he's been outstanding this year."