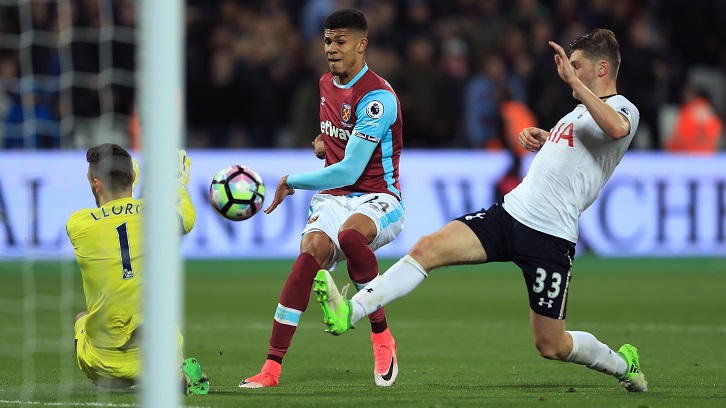 As a childhood Bolton Wanderers fan born just 20 miles from Turf Moor, Ashley Fletcher cannot wait for Sunday's Premier League finale at Burnley.
The West Ham United striker was raised in the North West, joining Bolton at the age of nine before moving on to Manchester United four years later. There, he followed current Burnley and England centre-half Michael Keane, who could be marking him this weekend, through the Academy ranks.
Like Keane before him, Fletcher is hoping to give Manchester United reason to regret allowing him to leave Old Trafford by making his mark on the Premier League – and hopes a return to the region where he grew up will give him an opportunity to do so.
Ash, you recently returned to Premier League action against Tottenham Hotspur and Liverpool after three months of mainly watching from the bench, which much have been pleasing?
"I think there were obviously a lot of people who came back from injury after Christmas, and I was very fortunate to have played a big part for the first half of the season.
"I understood why I wasn't getting as much game-time as I would have liked, but that's football and all I could have done was keep working hard in training and showing the manager that I deserved some game-time and obviously getting some minutes against Tottenham and Liverpool was a bit of a reward and really good for me.
"Hopefully I can get some more against Burnley."
Against Spurs you made a real impact, keeping possession for the team and going within inches of your first London Stadium goal when Hugo Lloris saved your shot late on…
"It was an all-round good team performance. First off, I think I had to go on and do a job and that was to see the game out, because 1-0 is a precarious situation.
"With the opportunity, it was one of those that if the 'keeper doesn't get a touch on it, the ball goes into the back of the net and you're a hero. It's just fine margins."
It must have been great to be part of such a great night at London Stadium in terms of the atmosphere, too?
"It was the best atmosphere I've ever played in myself. Obviously getting on in a London derby against Spurs, I know how much it means to the fans, so for us to win the game as we did and end their title hopes was a good achievement."
The fans had been singing for your introduction in recent matches, which must have been nice to hear?
"As a young English player, all you want is the fans behind you, because it gives you a massive boost.
"The manager picks the team, so I've just got to keep proving to the manager that I deserve to be on the pitch. Then, when I get there, I need to show the manager and the fans why I should be playing.
"The fans have been fantastic ever since I got to the Club. They've really got behind me and I can only that them for showing me support while I've not been playing."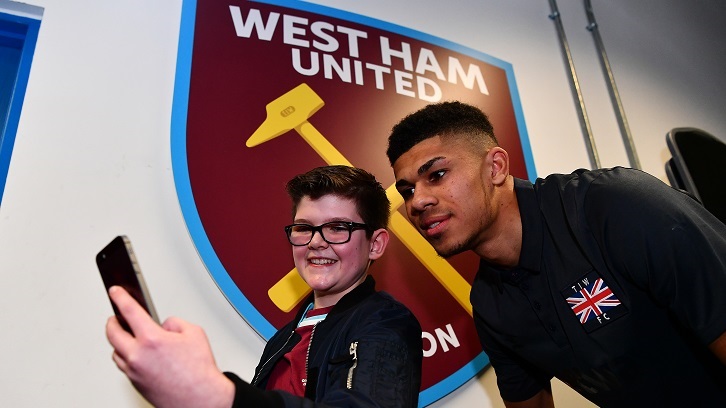 The summer transfer window will be open soon, and there is a lot of talk about signing a new striker, but presumably you believe you can save the Club a few pounds?
"Goalscorers are hard to come by these days and it is difficult to go out and spend a big amount of money on a player and them be an instant success.
"For me, as a young player coming through, if I'm given an opportunity and a run in the team, it can only benefit me. I look at Marcus Rashford who has taken his chance, stayed in the team and now he's one of the best strikers in England. The same goes for Harry Kane as well.
"There aren't many young English strikers playing in the Premier League, so hopefully next season I can get more game-time and fulfil my ambitions of doing well and playing for this massive Club.
"I'll work hard over the summer on my own to get stronger and quicker and I can come back in for pre-season firing."
Before then, of course, we go to Burnley on Sunday. As someone raised down the road in Bolton, and a potential opportunity to impress, this is a big game for you…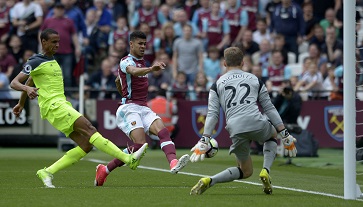 "I said to my Mum and Dad last week that, although the season is coming to an end, any game-time I can get is vital because, in my eyes, the season is not over and I've still got a lot to prove and achieve. If I can get some minutes and perhaps even start the game, that would be great and I'd like to reward the fans with a goal or two.
"I scored in the League One Play-Off final for Barnsley last year, which we won, and my confidence over the summer was massive, and I took it into pre-season and scored a few goals.
"Momentum is a massive part in football, because if you do well in one game it carries through to the next one."
Sunday's game could see you come up against a fellow Manchester United Academy graduate in Michael Keane – someone who has left Old Trafford but is clearly on his way back to the top of the game…
"Michael is a true professional who has had to leave Man United to make a career for himself, and everyone knows about the speculation around him at present that he might be going back to a top-four club.
"My ambitions have always been to play at the highest level and I want to do so with West Ham in years to come. I'm following a similar path to Michael and I know his game and he probably knows a bit of mine too, so it should be a good battle."