A delighted Terry Westley lauded his Premier League 2 outfit after they won promotion to Premier League 2 Division 1
The U23s beat Newcastle United 2-1 at St. James' Park despite falling behind
Toni Martinez's double was enough to see through the victory and the Academy Director had nothing but praise for his team
Terry Westley was delighted for his West Ham United U23 team after they secured promotion to Premier League 2 Division 1 with a 2-1 Play-Off Final victory over Newcastle United at St. James' Park.
The Hammers fell behind in the crunch clash in the north east when Tom Heardman grabbed the opener after 19 minutes.
But Toni Martinez – back in the team after returning from his loan spell at Oxford United – equalised just before half time when he fired across goalkeeper Tom Harker to make it 1-1.
And then just nine minutes into the second half, the super Spaniard was at it again, smashing in a second to give the visitors the lead.
It was backs to the wall stuff for the remaining half an hour but the Hammers held on sternly to see out the win and lift the trophy that sees them playing in the top division of PL2 next season.
After the celebrations, Westley said: "The boys deserve to be praised for an outstanding season. They're delighted but they're spent and they've given it all which shows their real character.
"You work with these boys every day; we know the effort they put in in training and we've had performance when we've had to dig in.
"It was tough. It's been a long year for them. They're tired. But you can see after; we're delighted to have won in a hard competitive match. Going 1-0 down, the boys had to show some character, which we did against Wolves in the semi-final, it just shows what the players are like.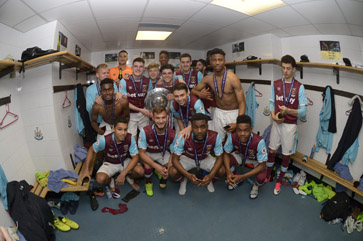 "It was a real 50-50 game and we knew Newcastle would take it close. You look at the fixtures, it could be Manchester City away, Arsenal away, Chelsea at home, Everton at home…they're tough fixtures, so we have to re-access where we are, and they have to be ready to go at the start of the season.
"So, well done to all the staff and everybody at the Academy, but now we have to be ready for July 3."
The entire team's collective performance was outstanding in the north east, but even so, Westley commented on a couple of the standout performers.
"Declan Rice is an immense captain and an immense leader and he's going to have a huge future in the game, that I am sure about. He is possibly the best player in this league this year.
"Every single game the opposition talk about him, scouts talk about him, managers ring about taking him on loan; he's had an absolutely outstanding season and you can tell how tired he was at the end. He gives everything all of the time, he's a proper captain and a proper leader.
"Then Kyle Knoyle – who won't be retained at the end of the season – had the option not to play, but he wanted to and he rolled his sleeves up and said he'd show people what he can do. With that type of attitude, he'll go a long way.
"He has shown the character of what you're looking for in a young player. I'm delighted he's leaving on a note when he's a winner, because he deserves that.
"And finally, with Toni Martinez, it's a bit different. He's gone on loan and actually scored against Newcastle for Oxford in the cup.
"This was his first game for two and a bit months, and he's done really well to play and he summed up what he is all about tonight. His goals tally this season – 14 in 14 – is what he is all about."