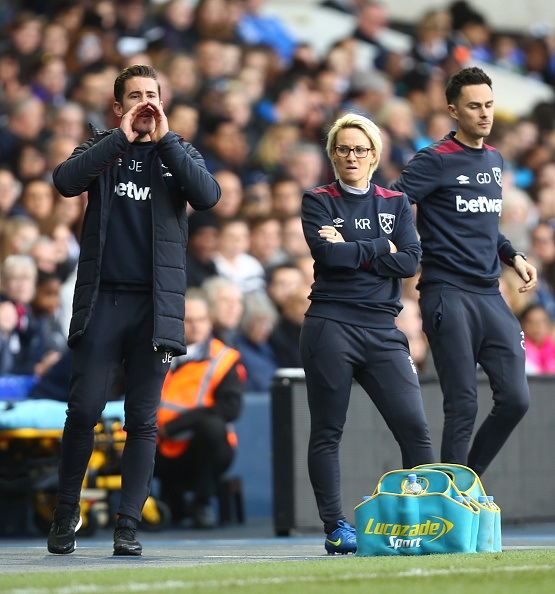 West Ham United Ladies can look forward to another season in the FA Women's Premier League Southern Division – despite ending the season on a losing note.
The Hammers finished the 2016/17 campaign in ninth place, a point ahead of Swindon Town and relegated Queens Park Rangers, following a 7-0 loss to champions Tottenham Hotspur on Sunday
They may have won just one of their 20 league matches this season, but manager Greg De Carnys was refusing to be downbeat after seeing his side beaten at Thurrock FC's Ship Lane ground.
"The hard work for next season has already started," said De Carnys. "We needed to survive and we needed to stay in the league and that was obviously a priority for next season.
"But if we are going to be competing next season and wanting to press on into the Women's Super League, then we need to be improving as players."
The Hammers again gave their all against the champions, starting brightly before conceding the opening goal nine minutes before half-time, when Katie O'Leary's lob beat Lottie Ivison in the West Ham goal.
Whitney Locke had a chance to level a short time later, but Spurs defender Sophie Mclean raced back to deny the forward an equaliser.
O'Leary then had a goal disallowed for offside before Wendy Martin doubled the visitors' advantage in the third minute of added time. The prolific Martin made it 3-0 with her second on 52 minutes before Ivison made a fantastic save to deny Bianca Baptiste moments later.
Just past the hour-mark, Spurs had a fourth through Riana Soobadoo's low shot, and it was 5-0 five minutes later when Baptiste got her name on the scoresheet with a neat chip. Within 60 seconds, Lucia Leon had netted Tottenham's sixth, before Baptiste completed the home side's misery with her second and the champions' seventh eleven minutes from time.
"It is never nice to be on a scoreline like that and there are clear things that we need to get better at and work hard on in training," manager De Carnys admitted. "In the second half we tried to play and that really helped us in terms of being brave getting on the ball and moving it quick. In possession, we were much better second half than we were in the first half.
"Defensively we were not quite good enough. You've got to be able to do all the things that stop good players like Spurs have got.
"That said, there were definitely some positives in the second half in terms of the way that we played, but we know that we have got some things that we need to improve on and we are going to work hard to do that.
"We have a young squad which we believe can develop into top players and we are going to be trying our hardest to provide the appropriate learning environment for them – an environment in which they are allowed to make mistakes as they try new things. They obviously do not want to fail but you have to be able to make a mistake if you are going to develop as a player."