Slaven Bilic admitted West Ham United deserved to lose to Liverpool at London Stadium
But the manager did feel the major moments went against his side on Sunday afternoon
Big chances missed and a controversial third goal left the Hammers boss feeling frustrated
Slaven Bilic was honest enough to admit his West Ham United team deserved to lose to Liverpool – but felt the game's major moments went against the Hammers in their 4-0 defeat at London Stadium.
Having started encouragingly, Sam Byram missed a decent opportunity to put his side ahead, only to fire his shot wide. Then, after Daniel Sturridge had rolled the Reds into the lead, as half-time approached Andre Ayew hit the post twice in the space of three seconds from point-blank range.
Finally, at 2-0 down, West Ham felt they should have had a penalty when Georginio Wijnaldum caught Winston Reid in the face with his arm, only for referee Neil Swarbrick to wave away the appeals, Liverpool to break the length of the field and Philippe Coutinho to score his second of the game.
However, the manager conceded his injury-hit side had simply not reached the level of performance or commitment they showed in beating Tottenham Hotspur at the same venue nine days previously.
"We spoke before the game and I expected the guys to put in the same kind of performance as they did against Spurs, with energy, organisation and teamwork, but it wasn't to be," Bilic began. "We were slower than on Friday night and they were quicker.
"We could have got the first goal and it would definitely have affected the game. We should definitely have equalised with that [Ayew] chance at the end of the first half, too, and then it maybe would have been different but it wasn't good enough, especially in the second half.
"We had the first great chance with Sam Byram at the beginning of the game and we started well, but those moments were against us, to be fair. Before we conceded the third, we were asking for a penalty or at least for the referee to have stopped the game. To be fair, it then became very hard.
"But if you asked me about the performance, it was nowhere near the level we reached against Spurs."
We have a good squad, but we need to improve the quality in the positions that we really need and where we had to improvise this season

Slaven Bilic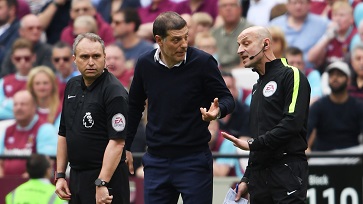 Speaking candidly, Bilic conceded that his players may have allowed their levels to drop after securing Premier League safety by beating Spurs.
The Croatian is not one for making excuses, but the fact remains that West Ham were without seven senior players through injury on Sunday – Mark Noble, Cheikhou Kouyate, Michail Antonio, Andy Carroll, Diafra Sakho, Pedro Obiang and Arthur Masuaku.
 "Of course, you are asking yourself and asking your players [to reach the same level of performance as against Tottenham], but we were missing a couple of really good players and that little bit of complacency that we wanted to avoid [slipped in]," he continued.
"We knew there was no place for that because it was such a big game, but it was probably there subconsciously."
The manager had had to deal with other issues too, but he is refusing to be downbeat, instead speaking optimistically about how he and the Club will work over the summer to ensure a better season in 2017/18.
"It was a very difficult one and a very long one, to be fair," he observed. "We had many, many obstacles but it showed today it was not about the stadium. The stadium needs time to adjust but we knew that before – we simply had too many injuries, not only today but throughout the season.
"We had eight operations this season, which was kind of weird, to be fair, and that's why I would like to give credit to the players because it was very hard.
"We had a minimum goal and we achieved it and we're going to benefit from this season long-term with the knowledge and experience because it was a very tough season.
"First, we have to adjust to the stadium. That period is not over, but it's going to be better because we already had one season here.
"Then we have to find good players in a few positions that we need to improve the squad. We have a good squad, but we need to improve the quality in the positions that we really need and where we had to improvise this season. That's all, really."