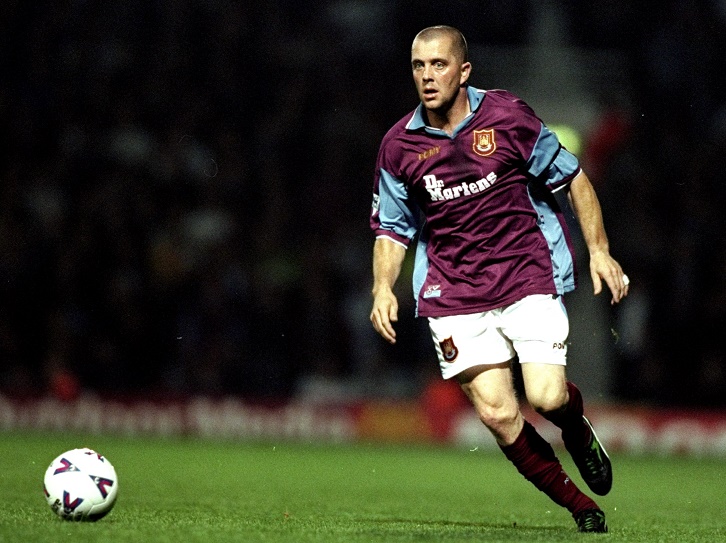 Of the many players to have featured for both West Ham United and Liverpool down the years, Julian Dicks remains the most adored by Hammers fans.
Signed by John Lyall from Birmingham City in March 1988 as an unknown 19-year-old, Dicks became an instant crowd hero at Upton Park thanks to his fearless, no-nonsense approach combined with a cultured left foot and ability to score and create goals.
After fighting back from a serious knee injury in 1990, the Bristol-born defender earned a big-money move to Liverpool in September 1993, before returning to his spiritual home just a year later and re-establishing himself as the club's inspirational captain, going on to finish his career with a total of 326 appearances and 65 goals in the claret and blue.
Now a valued member of Slaven Bilic's coaching staff, we caught up with the Hammers legend to reflect on his career with both clubs and discuss recent events…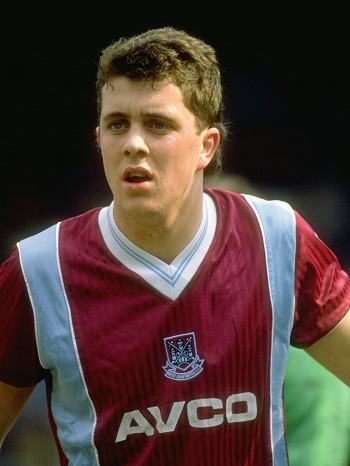 I'll be at the game on Sunday, although I won't be moving too well after suffering a knee injury this week.
Believe or not, I did it in the shower. Because I can't bend my left knee, I have to lean against the wall to wash my feet, and suddenly my right knee just locked. I managed to hobble out, and got dressed to go the Player Awards dinner, but it was a bit painful so I got the physio to have a look and basically, I'd done the cartilage. He advised me not to go to the dinner as the knee would probably blow up and I'd have to come home anyway, so I've now got an appointment with the surgeon to see if an operation is needed. It's annoying, one because it means I can't get involved with training at the moment and, two, I did it in the shower! If I'd done it out on the pitch or during some exercise, I could maybe accept it a bit more, but to have done it so innocuously is very frustrating.
I think if you ask any West Ham fan to pick one game in the season they would want to win, it would be Tottenham at home. 
Beating them is always nice. One because it's a local derby, and two they've always thought they are far better than us! The atmosphere at London Stadium last Friday was incredible. I've got to be honest, I wasn't sure if we'd be able to recreate the same kind of atmosphere we got at Upton Park for big derbies under the lights, but that was something else. The thing we've got to do now is give the supporters more performances like that. We deserved to beat Spurs, and our gameplan worked because the players worked incredibly hard. Not just one or two of them, but every single one of them. Tottenham have some great players, but the likes of Harry Kane, Dele Alli and Kyle Walker were non-existent, because we didn't allow them to play. The back three have been tremendous recently, but the key is that we have defended as a team, with Jonathan Calleri running his socks off up front and the midfield players closing the space.
We'll have a good chance of beating Liverpool if we approach the game with the same attitude.
Again, they are a good side with some very fantastic players, but if we put them under pressure then they will make mistakes. The worst player in the world can look good if you stand off and allow him space, so we've got to do the same things we did to stop Tottenham playing. Liverpool have had an inconsistent season, but that has been a case for most sides this year, with the exception of Chelsea and Tottenham. Manchester City have an awesome team when they are on top of their game, but in the Premier League you need to do it every single week.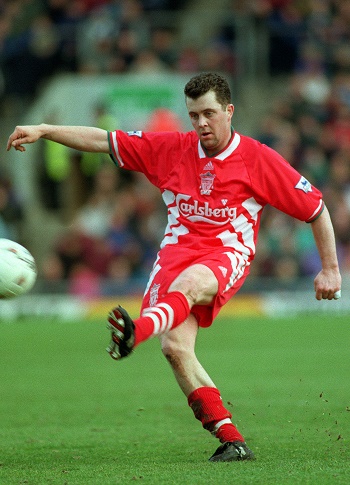 Looking back on my time at Liverpool, I'd have to say I was disappointed at the way it all happened.
I was happy at West Ham at the time and had no desire to move on. But I'd had a couple of sending-offs that year which upset Billy Bonds and Harry Redknapp, who was assistant manager at the time. Harry told me that Liverpool were interested and that he could make the move happen. I took that to mean that something wasn't right and that they wanted me to go. Graeme Souness had tried to sign me when he was at Rangers and, to be fair, as soon as I met him, I thought he was someone I'd like to play for. He was my kind of man, everything was black and white, no grey areas, and I loved him as a manager and a person. We had some fantastic players - Barnes, Rush, Molby - along with the likes of Robbie Fowler, Jamie Redknapp and Steve McManaman coming through, but we under-achieved that season and finished seventh, which wasn't good enough. Souness resigned, Roy Evans took over and that was really the end of it for me.
I wouldn't say I disliked Roy Evans, but we just didn't see eye to eye. 
That summer, I was going on holiday and there were some stories in the papers claiming that Liverpool wanted to sell me. I actually bumped into Roy at the airport, and asked him about the stories, and he said they were complete rubbish. Then I reported back for pre-season and he told me wanted to get rid of me! He said I was overweight and unfit, but that was in the days when you would do nothing all summer and then get yourself back in shape in pre-season. He didn't give me a chance to do that. The thing is, I admit I was a disruptive player at times, I liked to do things my own way, and it needed a strong manager to deal with me. At Liverpool, you weren't allowed a ball before or after training, and that didn't make sense to me. Roy stopped me going on the pre-season tour and made me train with the kids. He tried to send me on loan to Birmingham, which I refused to do, and then he said Tottenham were interested, to which I just told him where to go...! Then Jamie mentioned that Harry would take me back, and that was all I needed to hear.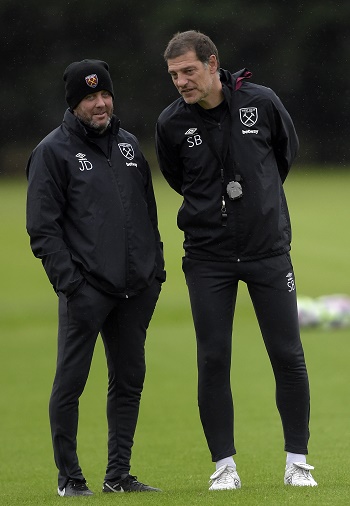 It seemed to drag on for ages before the deal was done to get me back to West Ham.
I remember playing in a reserve team game against Everton and Tony Cottee told me he was going back to West Ham the following week. I said: 'You lucky ******!' I didn't tell him that I might be doing the same, because I didn't want to tempt fate. Finally, though, they told me that a deal had been agreed with West Ham. I met Harry at the Swallow Hotel and he said to me: 'People don't want you back here! The chairman, the staff, even Shirley the cook!' But he knew what I could do as a player, and I didn't have to think twice when he offered me the deal. By the way, I've spoken to Shirley since and she says it's not true, she loved having me back!
I knew it was right to come back, simply because West Ham was where I belonged.
At Liverpool, I got one yellow card in 28 games. First game back for West Ham, against Southampton, I got booked. And to be honest, the fans expected it. I had a great relationship with them, and they built up that character, so I had to show them when I came back that I was still the same player, who would give 100% and run through brick walls for them. And sometimes, a crunching tackle is what it takes to lift the crowd and get the team going. Mark Noble did it against Spurs when he went flying into Eric Dier, and you felt Tottenham go into their shell a bit after that. The difference back in my day was that you could do it three or four times before getting into trouble! 
Coaching will never beat the thrill of playing, but I really enjoy working with Slaven and the team now.
Just being out there on the pitch every day, trying to help the players improve in any way they can, and hopefully using my experience to good effect. It's still a million miles away from playing, though, and I admit I do envy the boys. Not for the money they are earning or the facilities they have now, but just for the fact that they are playing the game every day, fit, young and with the thrill of a match to look forward to at the weekend. Having said that, I still count myself lucky to have been there myself, and especially at a club as special as West Ham.