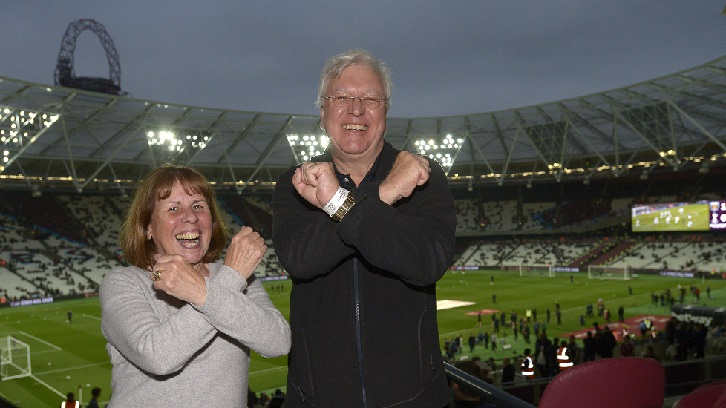 Season Ticket Holders David and Susan Edwards enjoyed a special treat after renewing his London Stadium seats for 2017/18 – victory over Tottenham Hotspur!
David, who is 65 and hails from Buntingford in Hertfordshire, has supported the Hammers since the Second Division title-winning year of 1958, when he attended the 2-0 victory over Wolverhampton Wanderers at the Boleyn Ground.
Nearly six decades later, David became a Season Ticket Holder for the first time last summer, when he became one of 52,000 Founders at the Club's new home on Queen Elizabeth Olympic Park.
Having hugely enjoyed his first campaign as a Season Ticket Holder, he and his wife did not hesitate to renew, and were rewarded by being picked to enjoy complimentary corporate hospitality for the unforgettable 1-0 Premier League victory over Tottenham.
"My Dad took me to my first game and I remember sitting up in the top deck and watching players like John Dick and Malcolm Musgrove, and I've been a fan ever since!" he recalled.
"This is my family club. My grandfather Edward was a fan, my dad Henry was a fan, I'm a fan and my wife and son Christopher are fans!
"My favourite memories are the FA Cup finals we won in 1975 and 1980 and I also remember seeing Martin Peters score a fabulous goal against Nottingham Forest, when he headed it out of defence, then ran the length of the pitch and scored!
"My overall highlights are always beating Tottenham, though!"
This is my family club. My grandfather Edward was a fan, my dad Henry was a fan, I'm a fan and my wife and son Christopher are fans!

David Edwards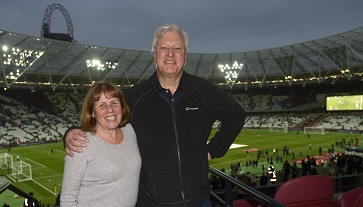 Like most Hammers, David has a sense of humour shaped by years and years of hope and expectation being dashed by heart-breaking defeats, such as the 2006 FA Cup final against Saturday's visitors Liverpool.
"I think what sets us West Ham fans apart is the ability to endure pain and still come back for more!" he smiled. "We've not won a major trophy since the 1980 FA Cup final, which I went to, and it's always the hope that kills you!
"Of course we lost the 2004 Play-Off final to Crystal Palace before winning the one against Preston the following year, then of course we won another one in 2012.
"I think we have always been a Premier League club, rather than a yo-yo team, and we are now where we belong."
For David, the move to Stratford and the area's much-improved transport links made becoming a Season Ticket Holder a far more attractive prospect.
"I used to go to Upton Park regularly but I was a Member rather than a Season Ticket Holder," he explained. "The reason I became a Season Ticket Holder here is that, while I enjoyed going to Upton Park and going to the Boleyn Tavern and the atmosphere and all that was fine, getting there was a nightmare.
"The transport infrastructure was awful, whereas from here, I can walk to Stratford and get a train straight up to Broxbourne and it's easy, so that's what sold it to me!
"Plus the fact I came to the Stadium as part of the Olympics back in 2012 and I was sold then, to be honest!"
For David and his wife, a call inviting them to enjoy Club London hospitality for the Spurs game was the icing on the cake.
"It was fantastic to be invited along to enjoy pie and mash ahead of the game, and then to beat Tottenham was even better!" he smiled.
"I've renewed my Season Ticket and I wouldn't miss next season for the world. Hopefully we'll buy decently in the summer and push on again."
*Keep your eyes peeled to whufc.com for more stories about some of the people who make West Ham United much more than just a football club.
#WeAreWestHam