Michail Antonio put the finishing touches on a memorable season by signing a new long-term contract with West Ham United.
Fresh from scoring the first Premier League goal at London Stadium, receiving his first England call-up and winning his first Hammer of the Year award, Antonio put pen to paper on an improved four-year deal with the Hammers.
Having pledged his future to the Claret and Blue, the winger sat down with West Ham TV to reflect on an unforgettable 2016/17 and look ahead to the future.
Congratulations Michail! What's your reaction to signing a new deal until 2021?
"I'm over the moon, I've loved my time here and I'm just happy that we have managed to get things sorted so I can move onto next season and do what I've done this season.
"I'm delighted to have signed a new four-year deal. I'd like to thank the Chairman [David Sullivan] because we had a nice little deal for this to get sorted. He's a lovely man and thanks very much!"
You've had quite a year…!
"When I was younger, I was growing up in south London and I used to come to West Ham games. I've loved my time here. Last season I managed to finish as runner-up in the Hammer of the Year award and this year I've won it, so it's a case of pushing on and I don't want to drop my standards next season.
"This year has been a better year than last year because I've played from start to finish and I managed to get the England call-up I've been dreaming of since I was a child. Hopefully I can keep pushing on and doing even better, because I always want to do better than I have done previously."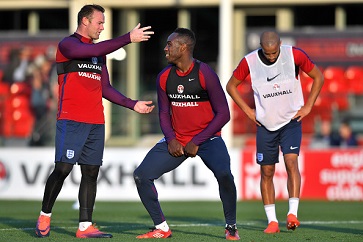 You have achieved so much in your career already, but you only turned 27 in March, so do you feel the best years of your career are still ahead of you?
"Definitely, I always wanted to get this sorted, get the contract sorted because this year I'm going to be in my prime of my career and anything could happen.
"Every footballer wants to leave a mark in their career and I've managed to do that. I scored the very first goal at London Stadium, one of the last goals at the Boleyn Ground so I just love that I manage to leave a mark in my football career but I don't want to end on that and I want to leave more marks as I go."
You've always said you are ambitious and want to take the next step in your career whenever you can, so presumably signing a new deal means you feel your ambitions can be fulfilled with West Ham United?
"I'm a very ambitious person, one thing I want to do is play Champions League and me signing this contract now, in my prime years, is showing that I believe West Ham can get in to the Champions League spots. I believe that we can push on and that we can be involved in the top four and that is my mission and something I'm hoping we achieve."
Are West Ham a bigger club than you believed you were signing for in September 2015?
"I've always known West Ham as a massive club with a massive fan base. When I went to the Boleyn Ground, I was very surprised it was only 35,000 holding there because I was thinking 'where are all the rest of the fans?' Everywhere I'd go, I meet West Ham fans – doesn't matter where I've gone, Dubai, Japan – wherever I go there is West Ham fans there! "I knew we definitely needed to double the capacity and moving here was definitely the best decision we've done."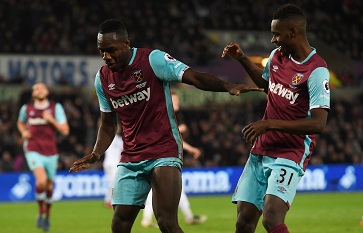 You've already been part of some of the biggest moments in our history at London Stadium. Do you feel we are now making this magnificent arena home?
"Leaving the Boleyn Ground, that's where people's whole lives were and so much history was left there and so obviously people were going to be intimidated by moving to the new place.
"It's like moving home – it's not going to feel like 'home' for a couple of years and it's taken a bit of time for us to get used to it and work through everything but now things are working out and this will turn in to the new West Ham home."
Sorry to put a downer on things, but you're currently nursing a hamstring injury. How is the rehab going?
"The rehab is going well, right now I'm still on the crutches and will be for the next week and after that I'll be off them. I'll start doing some strength work for the next two, three, four weeks, then I'll be outside doing running and I'll be in and out of training to get my way back in for the start of the season.
"It's either I'll be back for the first couple of games or, the worst case scenario, I'll be back fully available for the team after the international break at the end of August."
You're getting married next month, so presumably you want to be off the crutches by then!
"I'll definitely be off the crutches by then [the wedding], I said I need to be off crutches by then! Imagine that, stood at the isle with the knee brace on and crutches in my arms – imagine the first dance – it's just not a nice look! But no, It will definitely be off by then and I'll be well on my way to strengthening it."
Finally, when you think you were playing non-league football just a few years ago, do you have to pinch yourself when you think about what you have achieved in the game?
"I do pinch myself. There's times when I wake up and I just can't believe my luck. To this day, I've got three kids, and I still pinch myself - 'I've got three kids, I'm 27, I still remember being 18 like it was yesterday.
"Life has just flown by and I am taking it my stride so it's a bit off both, I am really enjoying life. People say I one of those happy people, I'm always smiling, what can I complain about?"
*Don't miss out on watching Michail Antonio do his thing in Claret and Blue next season! Renewal prices have been FROZEN, so renew your Season Ticket here now!