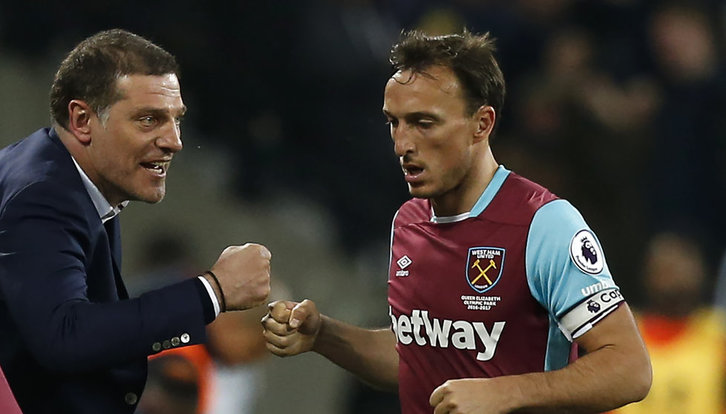 Mark Noble wants Friday's victory against Tottenham Hotspur to help launch the Hammers into a finishing position in the Premier League's top half.
The memorable derby success extended West Ham's unbeaten run to five games and made absolutely sure of their top flight spot.
But, with Liverpool and Burnley left to play, Noble wants more and believes ending in the top ten is achievable.
Mark, a win over Tottenham on Friday and then your 30th birthday on Monday – it was a good few days for you!
"After Friday night, the weekend I had was pretty special. I'm still getting over Friday now to be honest with you, it was amazing."
You've done it before, haven't you? That was our sixth win against Spurs in the last six years…
"For me, we should have beaten them away from home this season as well, to be honest. We saw again on Friday night when this Club pulls together as one, a little bit like the Swansea game too when we needed to win, [what we can do]. It was definitely one of the highlights of the season."
The atmosphere was something special…
"Yes. As I said, when we needed each other this year – the players and fans – against Swansea, against Crystal Palace and the Spurs game as well, we've been together and we've got results."
The Swansea game was special for you for another reason. It was your 400th game for West Ham. When you were on the terraces as a kid, did you ever dream of 400 appearances?
"I used to walk to the stadium and ask for autographs after games, so to captain this great Club and play 400 games is pretty special, not just for me but for everyone. To have one of their own captain the Club is great."
Just finally we don't want the Tottenham game to be the last good thing to happen this season, do we? We want to finish strongly and on a high…
"The aim is to get more points on the board. We can't worry about Spurs any more, it was a great performance and a great win but we want to beat Liverpool at home. I know we're going to have the crowd behind us and then we want to go away to Burnley and get some points there.
We want to finish as high up the table as possible and after beating Spurs, to not go on and get some more results would be disappointing. We want to finish in the top half and then that would be a very good season for us."