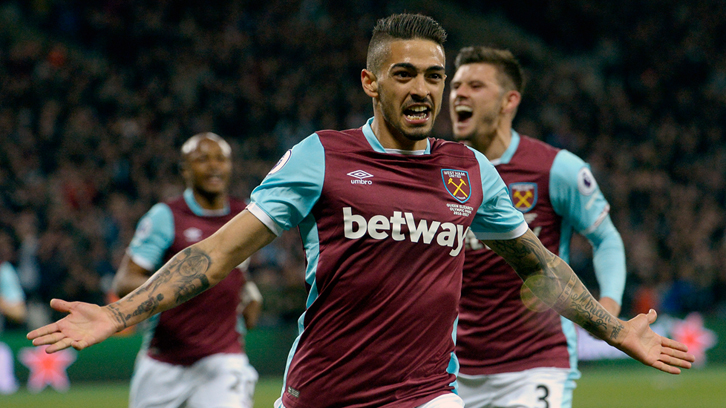 Manuel Lanzini's third goal in four matches against Tottenham Hotspur helped West Ham United to a vital 1-0 victory on Friday
The Argentine's only goal ended Spurs impressive winning run in the Premier League
It also secured West Ham United's Premier League safety and the midfielder was delighted to bag such an important strike
There was derby delight for Manuel Lanzini on Friday as his goal earned West Ham United a 1-0 victory against London rivals Tottenham Hotspur at London Stadium.
It was the Argentine's third goal in four games against Spurs, and the all-important strike not only ended Spurs' impressive Premier League winning run and possibly their title challenge, but also ended any relegation fears for the hosts.
On the back of nine wins in the league, there seemed to be no stopping Spurs, but with the confidence of last year's home victory behind the hosts, along with the current form of four games unbeaten in the top flight, Slaven Bilic's men had belief.
And the deafening scenes when Lanzini crashed home in the 65th minute were to be forever remembered. The Jewell was delighted to score such an important goal - his ninth in London derby clashes since arriving in the Premier League the summer before last.
He said: "It was amazing! It's very important for us, so I'm so pleased to score such a goal like this.
I like playing against Tottenham and scoring against them! It was amazing tonight and the team played very well.

Manuel Lanzini
"I like playing against Tottenham and scoring against them! I've scored three important goals against them for me and for the team, so it was great to score tonight of course.
"More important for me is not the goal though, it's that the team played very well. Tottenham are one of the best teams in the Premier League and to win is very important for us and for us to keep going."
Thanks to the massive victory, the Hammers climbed into the top half of the Premier League table on Friday night with their tally so far of 42 points.
And Lanzini spoke of the importance of his strike, also praising the fans for driving the team forward against Mauricio Pochettino's men.
"It was a very good win. We played very good and these points are very important for us, and it's important for us to keep going.
"It's a great win for the manager who is a great coach, and he talked with us a great deal before the game. He is amazing.
"The fans also were amazing and they are always like this. They are singing all of the time and they were perfect tonight as they always are."