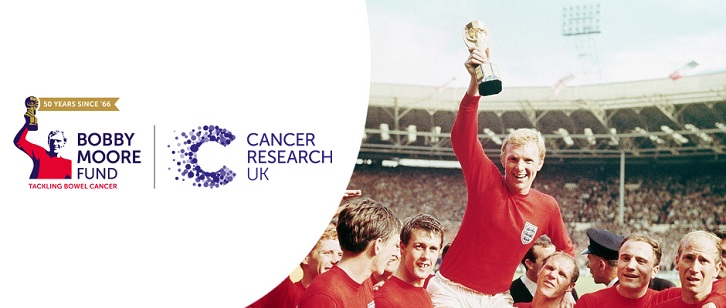 West Ham United will raise awareness for the Bobby Moore Fund for Cancer Research UK at Friday's Premier League fixture with Tottenham Hotspur.
The charity, which was established by the late West Ham and England captain's widow Stephanie following his death from bowel cancer in 1993, has raised more than £23.5m to fight against the disease.
On Friday, a bucket collection will be held in and around London Stadium and the Hammers will warm-up in Bobby Moore Fund T-shirts before kick-off, while a donation of £1,000 will be made on behalf of the FA Community Shield at half-time.
Here is more information about the Bobby Moore Fund and how you can get involved in the fight against bowel cancer…
Bobby Moore was just 51 years old when he died.
The Bobby Moore Fund for Cancer Research UK was set up in his memory to fund pioneering, life-saving bowel cancer research. Our purpose is simple – to bring forward the day when bowel cancer is cured.

Stephanie Moore MBE, Bobby's widow, established the Bobby Moore Fund in partnership with Cancer Research UK in 1993.  Since then bowel cancer mortality rates have fallen 30% and more than £23.5m has been raised for research, but we still have so much more to do.
BOWEL CANCER RESEARCH FUNDING
Forty-four people a day die from bowel cancer in the UK, making it the second biggest killing cancer. One in 14 men and one in 19 women in the UK will develop bowel cancer at some point in their lifetime.
Money raised by the Bobby Moore Fund goes towards only world class research that has the potential for the biggest impact in ensuring more people survive bowel cancer.
The focus of Dr Sansom's research, where our funding is currently concentrated, is to understand the early genetic changes that occur in cells lining the gut, which lead to the development of bowel cancer. These early genetic changes can often be pre-cancerous. This will help to identify novel markers of bowel cancer, which could help diagnose it earlier and predict how well it will respond to treatment, as well as provide new targets for therapy. Dr Sansom's work could therefore have a huge impact in the diagnosis, prevention, and treatment of bowel cancer.
INCREASED BOWEL CANCER AWARENESS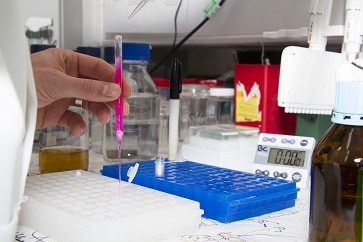 We need your support to do everything we can in 2017 to
increase bowel cancer awareness
.
Bowel cancer, if caught at its earliest stage, can be a very treatable disease. With more people aware of more symptoms and signs of the disease, taking advantage of screenings on offer we can make a real difference and save lives.
The signs and symptoms of bowel cancer can include bleeding from the bottom without any obvious reason or blood in your poo, change in your normal bowel habit, tummy pain (especially if severe) or a lump in your tummy and unexplained weight loss.
These symptoms are unlikely to be caused by cancer but it is better to play it safe, so it's important to tell your GP if you notice them.
BOWEL SCREENING
Bowel screening is used to check for early signs of bowel cancer by looking for hidden traces of blood in your poo.
There is a national bowel screening programme for older men and women. They will receive a screening kit to use at home and samples are sent away for testing. If your family and friends are the right age (In England, men and women between the ages of 60 and 74 years take part), encourage them to take part in screening when invited.
HOW TO GET INVOLVED
Let's beat bowel cancer sooner.
Text Hero065 to 70070 to donate £5 or visit www.bobbymoorefund.org to see how you can support our work.
All money raised goes towards funding world class research that has the potential for the greatest impact in ensuring more people survive bowel cancer.