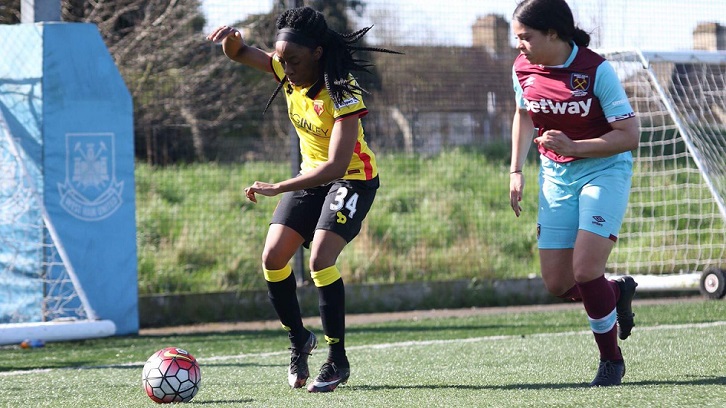 West Ham United Ladies hold FA WSL 2 side Watford Ladies to a goalless draw
Hammers hosted Hornets at sun-soaked Chadwell Heath on Sunday
Ladies will travel to White Hart Lane to tackle table-topping Tottenham Hotspur on 19 April
West Ham United Ladies held FA WSL 2 side Watford Ladies to a creditable goalless draw on Sunday.
The Hammers continued their recent improvement by holding the Hornets in a friendly at sun-soaked Chadwell Heath.
With a gap in the FA Women's Premier League South calendar to fill, Greg De Carny's squad produced a resolute performance and could easily have snatched victory if they had converted one of the decent chances they created.
Captain Amy Cooper put in a fine display in central midfield and says the result will give the Ladies confidence as they prepare to tackle leaders Tottenham Hotspur at White Hart Lane on Wednesday 19 April.
"We're all very, very excited," said Cooper, who joined the Hammers from Spurs earlier this season. "We knew this game was coming up against Tottenham right at the end of the season where we need to get a result and playing at White Hart Lane is just going to make us want to win even more."
Cooper was part of the Tottenham squad which lost 1-0 at the Boleyn Ground a year ago and, now she is in Claret and Blue rather that lilywhite, the midfielder is hoping for a similar scoreline at the historic home of the north London club.
"It will be a good game," she predicted. "I didn't actually play in the game last time, so this time I am hoping that I will be playing. Last time, West Ham beat Tottenham, so this time it will be good if we can go out there and beat them again."
The Hammers face a stern task if they are to repeat last season's success, both at White Hart Lane and while they finish the season by hosting Tottenham at Thurrock FC's Ship Lane on 14 May.
Spurs Ladies sit unbeaten at the top of the South Division with 12 wins and a draw from 13 games played, while West Ham have won just once in 17 matches, although their last three have ended in draws.
West Ham sit precariously in tenth place in the eleven-team division, three points ahead of bottom side Queens Park Rangers Ladies, with one club being relegated.
"I think we had a bit of a bad start, we had a lot of new girls including myself we were a very new team so it took a while for us to gel with each other," Cooper reflected.
"I think we're playing very good football, but we are just struggling to get the results we want. The results are starting to come. We haven't been beaten in our last five games, including friendlies, which is a massive improvement."
"We've improved so much, we can definitely go out there and get some points. Then we've got Lewes where we can definitely get a result out of that."
To buy tickets for West Ham United Ladies trip to White Hart Lane now, please call 0344 844 0102 and select option 2. Fans purchasing over the phone will receive paper tickets by post. Alternatively, click here to purchase online.