Julian Dicks surprises West Ham United Season Ticket Holder Arron White
Tree surgeon was first Hammers fan to log on and renew his seat for 2017/18
Club has frozen renewal prices for existing Season Ticket Holders
Tree surgeon Arron White got more than he bargained for after logging on to renew his West Ham United Season Ticket for 2017/18.
The 26-year-old was the first UK-based Hammer to take advantage of the Club's decision to freeze renewal prices for next season, earning him a surprise visit from legend Julian Dicks.
The four-time Hammer of the Year and current first-team coaching assistant paid a visit to White at his home in Grays, Essex, where he thanked White for rooting for West Ham.
"I've loved West Ham for years, so I had to renew straight away as I couldn't let that opportunity pass!" White told West Ham TV. "I am a new Season Ticket Holder this year, but my cousins had been Season Ticket Holders for years in the East Stand Lower.
"I knew I had renewed quickly but I didn't realise I was first! I was sat in a café and got an email from West Ham and saw there was priority for people who renewed first to move seats. Now I'm going to move from my seat in the Upper Tier to join them next year!
"My cousin rang and told me he was going to drop off a DVD, but Julian Dicks knocked on my door instead, completely out of the blue – I couldn't believe it, really!
"Being a Season Ticket Holder is great and the matchday atmosphere is second-to-none. I didn't have to queue as I was a Founder on the back of my cousin's Season Ticket, so I went to the Reservation Centre, which was smooth and helpful. It's fantastic to be a part of it."
Being a Season Ticket Holder is great and the matchday atmosphere is second-to-none

Arron White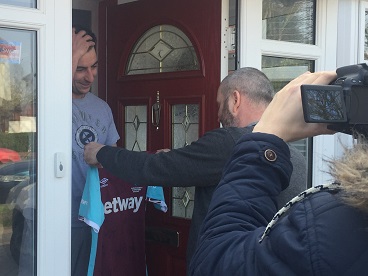 While he is a new Season Ticket Holder, White revealed that he did once carry out some work for a particularly famous Hammer – Joint-Chairman David Sullivan!
"I'm a tree surgeon by trade, cutting down and shaping trees," he explained. "Our company actually did some work at David Sullivan's house, where we went in and did some reductions around the property, but I don't think he was at home!"
Dicks was delighted to make White's day by presenting him with a home shirt signed by the first-team squad, before revealing his admiration for West Ham United's Season Ticket Holders.
"For me, the Season Ticket Holders are the lifeblood of any club," he confirmed. "I played against West Ham for Birmingham when I was 17 and I realised then that they are fantastic supporters.
"Supporters are the most important thing in a football club because, without them, there isn't a football club. They're a big boost to players and expect them to give them everything they have got.
"West Ham fans are very loyal and I remember seeing the same faces and hearing the same voices every single week when I was playing, and they're the Season Ticket Holders."
Season Ticket Holders have been renewing at a record-breaking rate since the Club fulfilled its promise to continue providing affordable football at London Stadium.
Thousands of supporters have already secured their seat for next season, serving as yet further illustration of the amazing loyalty of the Claret and Blue Army.
Current Season Ticket Holders have until Wednesday 31 May to renew for 2017/18, after which any remaining unrenewed seats will be made available to fans on the 55,000-strong Season Ticket Waiting List.
Supporters can take advantage of the brand new low-interest payment plan that enables the cost of renewal to be spread over monthly instalments, delivered with our partner V12 Season Ticket Finance.
The ten-month plan now offers a low 6% arrangement fee – significantly reduced from the 19.9% previously payable. Alternatively, the four-month plan offers 0% interest, with a £30 administration fee.
For Season Ticket Holders looking to relocate their seat once the deadline renewal passes, the low-interest payment plans provide the perfect opportunity to renew as soon as possible in order to secure a prime spot on the priority list for relocations.
The deadline to apply for a payment plan online is Friday 14 April.
For a list of Season Ticket Renewal FAQs click here.