Everyone connected with the Club was hugely disappointed with Saturday's frustrating 3-2 defeat to Leicester City, but as one of the team's leaders, Jose Fonte was quick to come out and admit the performance was not good enough.
The Portugal centre-back, who now heads away with his international teammates for a FIFA World Cup qualifier against Hungary and a friendly clash with Sweden, is certain, however, the Hammers' defending will improve.
Working hard on the training ground and doing the basics right is the key, according to the 33-year-old, who says he, alongside his teammates, will be doing everything they can to turn things around.
Jose, when the ball's not bouncing your way, it's so difficult to change your fortunes, isn't it?
"Yeah, it's difficult to take, obviously. Nobody is happy, everyone is disappointed. But the only way to turn things around is to work and stick together and find a solution.
"We wish the next game was just around the corner. But we have got to regroup, analyse things and stop conceding these goals. We're better than this."
The first and the third goals, they could have been conceded on any pitch in the world, couldn't they?
"Yes, sometimes these things happen. Having said that, we could have easily won the game. We had the chances. It didn't happen for us.
"We tried in the second half with everything we could throw at them, everything we could. We had two or three great chances to equalise and win, but we didn't manage to do it.
"We showed character to try everything and not give up. Now it's about getting back to basics; good defending, clean sheets first. We can create chances. We're very disappointed and very sad, but we want to pick ourselves back up."
As a team, Slaven Bilic said we need to concentrate early-on in matches. Is that something you need to get together before and say, look, we need to switch on here?
"We have been talking and saying things the whole time for the last two or three months! Like you said, sometimes things don't go your way but you have to try and change your bit of luck, to try and be more compact and defensive.
"We know that if we try to get some clean sheets, we can do well because we have seen we can score. It's about back to basics. We need to be in good positions and just defend."
We have got to regroup, analyse things and stop conceding these goals. We're better than this

Jose Fonte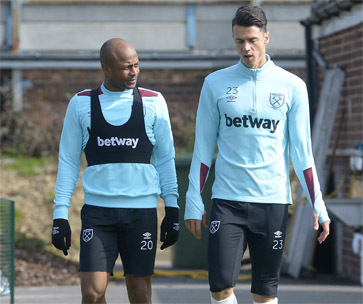 Andre Ayew has come into the team recently and he seems to give us something a bit different. How much of a boost has his form been?
"He is an important player for us, he's been showing his qualities and hopefully he can keep scoring goals for us and helping, because we need him."
We go to Hull City next in the Premier League. Their manager has come to England and you probably know him better than most…
"Yes, Marco Silva is a very good manager. He's very organised. It will be a tough game for us, but it's a game in which we've got to get a good result."
You go away now with the Portugal squad. To get that different environment and freshen up, is that good for you?
"I look forward to it, obviously. It's always an honour to play for your country. It will be good to see the boys and to be with them, but I want to succeed here. I want to win here.
"Obviously I want to win with Portugal and we'll give our best but I want to win with West Ham and start to put things right and start to get good results, because that's why I came here; to win. I'll be giving my all to put that right."