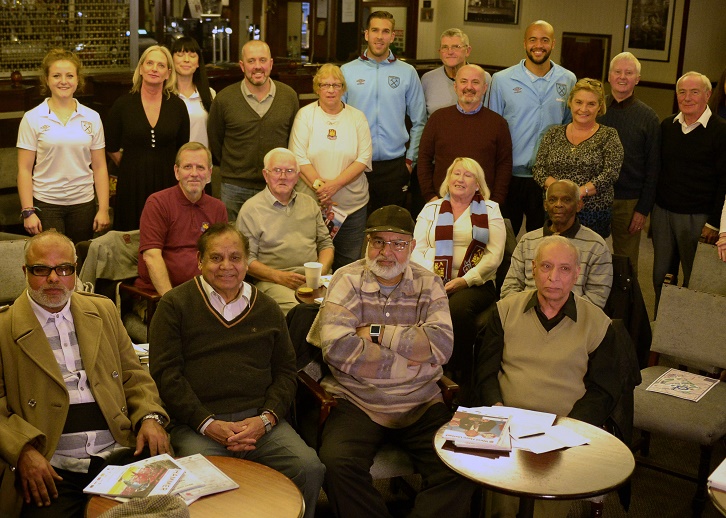 Hammers fans aged 65 and over are invited to enjoy a free Afternoon Tea with special guest David Gold on Tuesday 4 April, in the latest meeting of the Any Old Irons event.
Any Old Irons is a joint initiative between the West Ham United Foundation and national charity Friends of the Elderly, celebrating and exploring the Club's rich history, and giving those involved the opportunity to bond over their shared love of West Ham United.
The Afternoon Tea will take place at the East Ham Working Men's Club from 1pm to 4pm, when the Joint-Chairman will be on hand to share memories and chat with guests.
Run in conjunction with the Premier League and the Professional Footballers' Association, the Any Old Irons project is part of the Football Friends programme. 
The initiative gives participants the opportunity to connect with other fans and locals in their community, bringing them together for fun and friendship. Those attending can also learn how to stay in touch with their fellow fans and the Club using digital technology.
The Any Old Irons event, held regularly at East Ham Working Men's Club, close to West Ham United's former stadium, also displays the club's ongoing commitment to providing support for the community in and around the Upton Park area.
The project is possible thanks to funding and resource provided by West Ham United Foundation, Friends of the Elderly, the Premier League and PFA. The PL/PFA Fund supports community projects delivered by professional football clubs, by allowing them to work in partnership with local agencies and charities who deliver programmes that will help and support those taking part. The Fund allows clubs to focus on areas of need for their local community and develop partnerships that will look to address these.
Any Old Irons is open to anyone over the age of 65. Spaces at the Afternoon Tea on April 4 are limited and will be allocated on a first reserved basis – those interested in attending should call 0330 332 1110 or email [email protected]
Keep checking whufc.com for more stories about some of the people who make West Ham United much more than just a football club. #WeAreWestHam