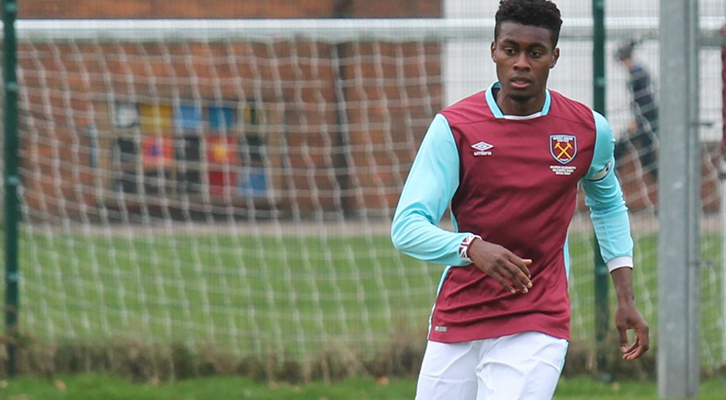 West Ham United U18s visit Reading on Saturday (11am)
The Hammers are looking for their first points of the Merit Group phase
Captain Tunji Akinola is calling for an improved performance
Tunji Akinola has urged his U18 teammates to be prepared for the same level of test as the one Chelsea posed in their 4-0 defeat to the Blues last week.
The Hammers take on Reading on Saturday (11am), aiming to pick up their first Merit Group points of the season.
After finishing in the regional division top four, Steve Potts' men were humbled at home by Chelsea in their first second phase match, but still could have got back into the game in the second half.
But defeat was how their second phase campaign started and captain Akinola called on the team to improve going forward.
"Being in the Elite Stage, we have to expect tough tests like this one," he said. "All the teams are of high calibre and we need to up our performance to match that.
"Chelsea have got quality, but one thing we noticed is that they really want it. They ran, they pressed and they didn't stop until the 90th minute.
"That's something we can take from the game. I don't think we kept the ball well enough today and that's what hurt us."
"It was tough but we've got to learn to keep the ball better in the games coming up.
The Hammers visit Reading today (11am) and Akinola believes that a win is paramount, as they aim to right the wrongs of last weekend.
They twice played Reading in the South campaign, winning 2-0 away from home but the U18s did lose 3-0 at Little Heath to the Royals in November.
"Reading should be a game that we're looking to win. They're not of the calibre of Chelsea. In the rest of the Elite phase games, we need to stamp our authority on the game from the start."
"We've got to get after teams more and keep the ball better when we have it. We spoke in the changing room after and everyone is hungry and wants to do better. We have to show what we can do in the last six games of the season."