West Ham United are pleased to introduce a new feature on whufc.com created thanks to the feedback and ideas put forward by our loyal and passionate supporters.
We realise that it has taken time for London Stadium to truly feel like home for some, but everyone at the Club remains absolutely committed to doing everything we can to enhance the experience for all Hammers fans.
Here are just some of the new services, initiatives and improvements introduced recently for the benefit of our supporters…
@WestHamHelp
Our new dedicated Supporter Services twitter account @WestHamHelp is open from Monday to Friday from 9am-5pm and on first team home matchdays from two hours before kick-off until full-time. We aim to respond to as many enquiries as possible within 24 hours and currently have more than 2,700 followers. Follow us today for all the latest service information or if you need any help or advice relating to the Club.
SLOs growing in number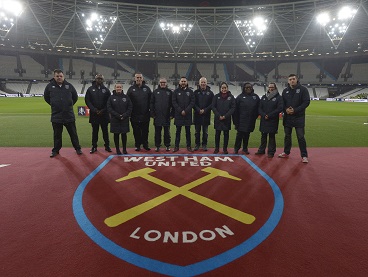 Our new team of matchday Supporter Liaison Officers (SLOs) have grown from a group of ten to 40 within the space of five matches, who will be on duty at the home match with Leicester City. All SLOs are personable, friendly and, above all, available on matchdays at London Stadium to assist with any enquiries, feedback and concerns.
Matchday Guide
The Matchday Guide is available on whufc.com and is updated from match-to-match wherever required. The Guide should feature all that you need to know before and during your visit to London Stadium.
However, it is constantly evolving, and if there is anything you feel we could add to the platform we would love to hear from you at [email protected]
On route to coach park
Our new team of Supporter Liaison Officers (SLOs) are situated along the route from the Stadium to the official coach park near Pudding Mill Lane to assist with any directional enquiries and offer support wherever required.
Free Shuttle Bus service for home and visiting supporters
We have increased the number of Shuttle Buses for home supporters with accessibility requirements leaving London Stadium post-match and the average queuing time is now at approximately 20-25 minutes.
An additional Shuttle Bus is also available to visiting supporters with accessible requirements to assist them in travelling from the official coach park to the Stadium.
Queues at the turnstiles
Following feedback received at the Supporter Advisory Board meeting on 24 January, we have significantly increased the number of security wands at the turnstiles to support the smooth and efficient entry of supporters to the stadium.
Prior to recent matches, a courtesy message has been sent to all ticket holders entering via turnstiles F, G and H to confirm seat details, turnstile entry points and reminding supporters to arrive early to beat the queues. This message is also advertised across all Club channels, including @WestHamHelp and on the front page of the Matchday Guide.
London Stadium are also actively recruiting female stewards and the number of females assisting with searches at the turnstiles is increasing match-by-match.
Flow rates at the turnstiles are constantly monitored at each match and we are pleased to confirm that, with these additions, entry for all fans across the stadium is proving to be much quicker.
Shelving in concourse areas
The Club and London Stadium recently undertook a review across the entire concourse area and new shelving will be in place for the match against Leicester City on Saturday 18 March.
West Ham flags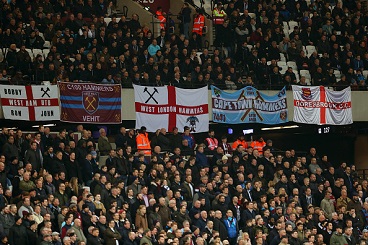 We recently announced a new initiative encouraging supporters to bring large flags into the stadium. The initiative forms part of the Board's ongoing commitment to improving the matchday experience and ensuring supporters feel at home at London Stadium.
To arrange to have your larger flag displayed, contact [email protected] at least 72 hours before the home match you are attending with the following information and a member of the team will assist you:
A picture of the flag you wish to display
Dimensions of the flag
Confirmation it is manufactured to British Standard and is flame retardant
Your Season Ticket seat number
Toilets improved
Enquiries were raised at the Supporter Advisory Board meeting on January 24 as to the ratio of male to female hygiene facilities available on matchday. This has been reviewed carefully and the decision was made to change all toilets closest to the turnstiles to male, with signage and notices on each door communicating this.
New Ticket Office phone numbers
Following feedback from supporters given directly to Vice-Chairman Karren Brady at a London Stadium Forum, we introduced a new UK-rate telephone number for the Club's Ticket Office.
Supporters buying Standard Tickets and Official Coach Travel have been saving since the new 03-code numbers were introduced by the Board in November 2016.
Ticket Exchange
In response to feedback from Season Ticket Holders seeking to sell their seats when they are unable to attend home matches, we introduced the Ticket Exchange.
Season Ticket Holders are given the opportunity to earn money to redeem against their Season Ticket renewal by listing their seat on the Ticket Exchange ahead of every home first-team fixture at London Stadium. Since being introduced before Christmas, the Ticket Exchange has therefore also given thousands of West Ham supporters the chance to attend home fixtures which have previously sold out this season.
Season Ticket renewal price freeze/lower finance rate APR
Continuing our commitment to benefitting our most loyal supporters and providing affordable Premier League football for our Season Ticket Holders, the Board confirmed that founding Season Ticket Holders at London Stadium will enjoy a price freeze when renewing for the 2017/18 campaign. In addition, we also listened to supporter feedback by introducing a new low-interest finance plan of just 6% – down from 19.9% – delivered with our partner V12 Season Ticket Finance, for fans who wish to pay for their Season Ticket via monthly payments.
*If you have any additional feedback, the Board will consider every email sent to [email protected].
Look out for regular updates and further new supporter initiatives and services on whufc.com soon…