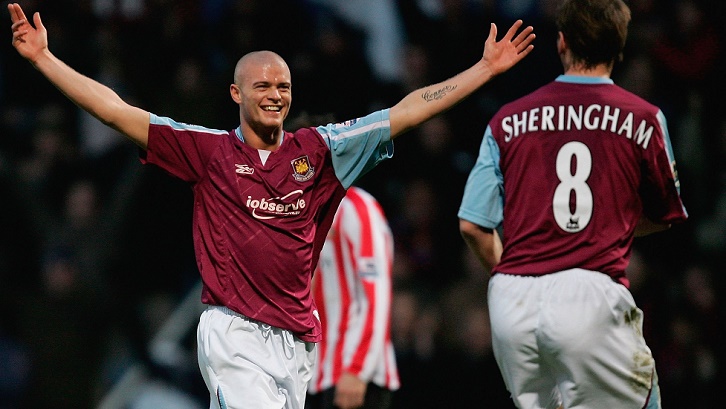 Paul Konchesky is no stranger to both West Ham United and Leicester City, having enjoyed memorable spells with the two clubs.
The Barking-born left-back signed for the Hammers from Charlton in 2005 and played a key role in the Club's first season back in the Premier League, including a famous goal in the unforgettable FA Cup final against Liverpool that was seconds away from being the winner until Steven Gerrard stepped up.
After spells with Fulham and Liverpool, Konchesky spent five years with Leicester, where he helped the Foxes win promotion to the top flight in 2014 and then escape relegation by the skin of their teeth the following year.
The 35-year-old, who recently joined Isthmian League side Billericay Town after a 20-year professional career that saw him make more than 500 league appearances and earn two full England caps, talks exclusively to whufc.com about his links with both clubs...
I can see it being a tight game on Saturday.
Obviously both teams are coming into the match on the back of very different results – West Ham suffered a disappointing defeat at Bournemouth last weekend, while Leicester had a massive victory over Sevilla in midweek to reach the Champions League quarter-finals. I was at the King Power Stadium on Tuesday and it was an unbelievable night. Once Leicester got the first goal the whole place lifted and you could see the team grow in confidence and belief that they could go on and win it. They will turn up on Saturday in a positive mood, and West Ham will need to start the game well and try to get on top as quickly as possible.
It's been a strange situation at Leicester over the past few months.
Although the league form wasn't great, they were doing brilliantly in the Champions League under Claudio Ranieri. There was obviously a lot of debate over his sacking, but since then they seemed to have picked up their Premier League form and kept the European run going too. The way they play seems to suit them in Europe, and you wouldn't put it past them to go even further. No one said they could win the Premier League and they did it, so you never know. The other clubs left in the competition won't fancy playing them – even Gianluigi Buffon said that Leicester were the team that Juventus wouldn't want to face.  
Full credit must go to Craig Shakespeare. 
He is a great coach and a great guy, who I know well from my time there. To keep him on board until the end of the season is the right choice. He knows the club inside out, he knows all the boys well and he has their respect. 
I was at London Stadium for the last home game against Chelsea.
West Ham started quickly, which is what they need to do against Leicester. One mistake cost them dear but, even after Chelsea went in front, West Ham were still in the game and played well. If they can create a few more chances and take one early on, then I think they will be okay. It's been a bit of an up and down season generally and they have had a lot to deal with. People have gone on about the stadium but, listen, it's four lines and two goals. The players know how to play football. And when you look at where they were before Christmas and where they are now, everyone would say they've done really well. They're not far off the top eight, so it hasn't been too bad.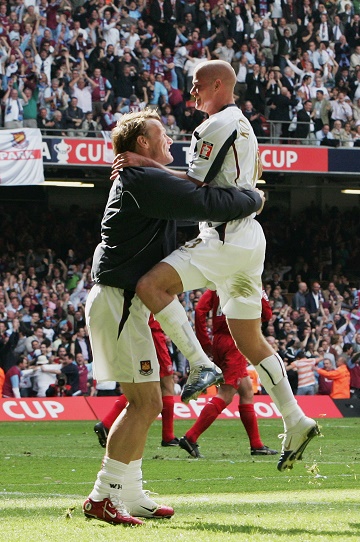 It's crazy to think that I played in the FA Cup Final for West Ham nearly 11 years ago.
It still feels like yesterday. I remember every minute of it and – other than the result – what a fantastic day it was. I still get asked about my goal now and I still have the same answer: Yeah, it was a cross, but it went in so who cares! That year – my first season at the Club – was tremendous. We finished in the top half of the table after promotion, got to the cup final, and had a fantastic team spirit. The following season, I don't know what happened, call it second season syndrome or whatever, but it just didn't carry on. The last couple of months were incredible, though, and it was an amazing escape on the final day.
Since leaving West Ham, I've been on a bit of a nationwide tour!
I moved across London to join Fulham and had three good years there, reaching the Europa League final, before moving away from my home area for the first time to join Liverpool. It was one of those opportunities that you simply can't turn down when it comes along, the chance to play for one of the biggest names in European football. After that I've been slowly making my way back down! I had four or five great years with Leicester, including the promotion season and escaping relegation in the first year back. Obviously it was a bit of a choker to be out on loan when they won the title last year, but I wanted to play regular football at the time. Although hindsight is a wonderful thing, I would still rather have been playing week in, week out than potentially watching from the side, so I have no regrets. 
After a couple of years at QPR and Gillingham, I'm now back home.
I recently signed for Billericay Town in the Isthmian League and it means I can spend more time with my family in Essex. My contract with Gillingham was up at the end of this season and, to be honest, I was planning to retire anyway. Professionally I've hung my boots up, but this opportunity came along and my wife said to me 'why would you not carry on playing if you've got this chance?' I don't think she liked the idea of me sitting at home every day doing nothing! Billericay have got a very exciting project going on, and it's good to be a part of it without the pressures of full-time football.
I'm not sure what the future holds yet.
At the moment, I'm just enjoying spending more time with my three kids and the family. I had 20 good years as a professional and I loved every minute of it. Down the line, I might look into doing my coaching badges, but for now I'm content. I've also got the family pie and mash shop in Brentwood – Konch's Café – which my mum looks after. I don't think you'll see me behind the counter any time soon, though! The other bonus is that I've now got the chance to be a West Ham fan again. I've been to the last couple of games and I also know Terry Westley well, so I've seen the Under-23s a few times. It's nice to be able to support the Club the way I did as a kid again!