West Ham United to host DT38 Foundation Awareness Day at London Stadium on Saturday
Male health and cancer charity set up in memory of late Hammers striker Dylan Tombides
Day begins with 3.8-mile walk from The Boleyn Tavern to London Stadium on Saturday morning
Saturday's Premier League match with Leicester City marks the third annual DT38 Foundation Awareness Day, promoting the charity set up in the memory of late West Ham United striker Dylan Tombides.
'Dyl' was just 20 when he lost his battle with testicular cancer in April 2014 but the impact he made around Upton Park, both on and off the pitch, will never been forgotten.
And the mission of the DT38 Foundation - set-up by the Tombides family - has made great strides in tackling the stigma surrounding male health.
At the heart of their work across communities lies the message 'delay is deadly, get educated'.
The DT38 Foundation Awareness Day begins on Saturday morning with scores of dedicated supporters completing a 3.8 mile walk - sponsored by Lysis Financial - from The Boleyn Tavern to London Stadium.
Also involved today is Scott Howes, the father of Academy of Football goalkeeper Sam Howes, who is running the London Marathon for DT38 Foundation next month. During today's game, Scott will run 13.8 miles on a treadmill inside the Stadium to raise funds for the cause.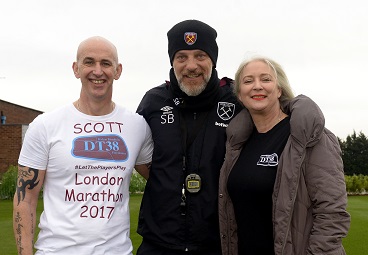 DT38 Foundation is funded by donations from sponsors and the public and from today fans have the opportunity to pledge their support by donating £3 to the cause by texting DIDGE to 70660*.
Just one of the major projects unveiled by DT38 last year was the launch of Didge, a children's book that uses Dylan's inspiring story to educate young people about the importance of health and wellbeing.
A literacy programme around Didge is now being rolled out to primary schools across east London in partnership with the West Ham United Foundation.
DT38 has also teamed up with Spire Roding Hospital to offer free testicular cancer screenings on 20 May as part of their ongoing programme to encourage more men to check or be checked for signs of the disease.
To book your free testicular cancer screening appointment, call 07568 429746 or email [email protected].
This is our third Awareness Day with West Ham and there is so much going on and I'm tremendously excited about the opportunity to reach even more people with our potentially lifesaving messages

DT38 Foundation founder Tracy Tombides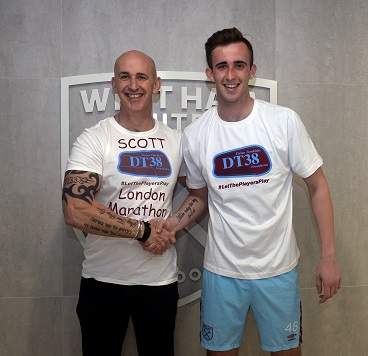 Dylan's eye for goal and natural flair saw him shoot his way through Academy of Football and come to the attention of the Australia U17 side.
It was in 2011, while representing the Joeys in the FIFA U17 World Cup in Mexico, that Dylan was diagnosed with testicular cancer.
With a determination and bravery that astounded everyone around him, he continued to train harder than ever while battling the disease.
In 2012, against all the odds and after months of grueling chemotherapy, Dylan made his first-team debut in a League Cup tie against Wigan Athletic.
Tragically, the disease returned and, on 18 April 2014, cancer took Dylan's life, but it can never take his legacy.
Dylan's mother, Tracy Tombides founded DT38 in his memory.
"The players and staff of West Ham United have done so much to support DT38 since the start and we are eternally grateful," she said. "The Hammers have played a major role in helping us begin to achieve our mission, which is to educate as many people as possible, of all ages, about the risks of testicular cancer. I am also very grateful to Scott Howes and Lysis Financial for their brilliant support today.
"This is our third Awareness Day with West Ham and there is so much going on and I'm tremendously excited about the opportunity to reach even more people with our potentially lifesaving messages.
"Early detection of testicular cancer can be the difference between life and death and as a parent who has lost a child to this horrific disease, I urge you to digest the information that DT38 Foundation is sharing about the importance of self-checking and early detection of testicular cancer."
To find out more about the DT38 Foundation visit the charity's website now.
*Registered Charity No. 1160269. You may be charged for this SMS, please check with your network provider. DT38 Foundation will receive 100% of your donation. Please obtain bill payer's permission. Non-premium charity phone line: 07775 309216.