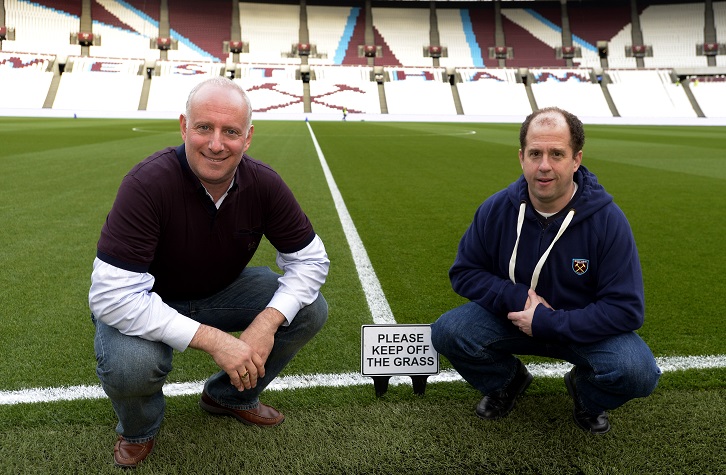 As West Ham United and a host of other visiting Premier League teams discovered on their visit to the United States last summer, English football is more popular than ever on the other side of the Atlantic.
Back in 2015, broadcaster NBC signed a six-year deal to show Premier League in the US worth more than £500m, with millions of fans tuning in to watch their favourite team in action every Saturday morning, or midweek afternoon.
Many converge on their favourite supporters' pub or bar, or gather at home, to watch games with like-minded fans, while the Hammers are followed by dozens of supporters' clubs based in cities from New York to California.
Two of them are Manhattan-based wine and spirits distributor Dave Hautzig and his lifelong friend Jonathan Ross, an attorney who moved from New York City to Houston, Texas.
The first question to ask, naturally, is why are two Americans West Ham United supporters?
"My standard answer is that it's like an incurable disease – you catch it, there's no treatment and there's certainly no cure and it will be with you until you die," said Hautzig, 51.
"I had a neighbour in my apartment in my building in New York City and, back in 1991, we decided to take a trip to London to see an old friend perform who was a jazz musician.
"We sat next to a West Ham Season Ticket Holder on the flight and got chatting to him about the Club, I didn't have a club, so I decided to become a Hammer!"
Like so many Americans, Hautzig's love of 'soccer' is nothing new. In fact, he has been watching the sport live for longer than most of his fellow Hammers!
"I was already a football fan and had a Season Ticket at the New York Cosmos back in their NASL heyday with Pele, Giorgio Chinaglia and Carlos Alberto," he confirmed, "and I used to watch the 30-minute highlight show which was screened on TV in the US back then.
"All of a sudden, in 1994, I was on a plane to England, then in a car up to Anfield and we got a nil-nil draw with ten men after Tony Cottee had been sent-off!"
Our team was gone!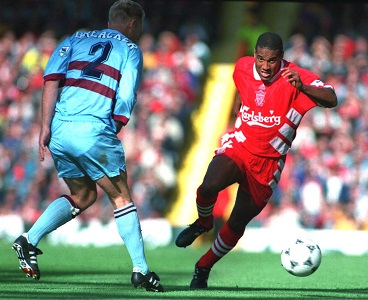 Ross, who grew up watching the New York Knicks basketball team win two NBA titles in the early 1970s, was drawn into the West Ham family by his lifelong friend.
Now, the pair are both staunch Hammers and make regular trips across the Atlantic to watch their team in action – a far cry from their early days as supporters in the 1990s.
"Sports has always been a big part of our friendship and Dave starting trying to get me into West Ham," said Ross. Back then, there was no internet, so the only way of following your club was to go to a pub on a Saturday morning to watch the game, and I lived in Texas so I didn't even have a pub to go to!
"It was initially very hard to follow the team, as I was relying on results in the newspaper or short-wave radio. Then, in 1994, we disappeared from the newspaper after we got relegated, which is a concept we didn't know in the States! Our team was gone!
"We were in the First Division and were almost impossible to follow for a few years, before we got back into the Premier League and had a really good time in the late nineties."
Like so many fans, Hautzig and Ross tuned into coverage of West Ham matches on Capital Radio, for whom the late Bobby Moore commentated in the early nineties.
Twenty-five years on and it is a fair bit easier to keep tabs on your favourite team from the US…
"It's completely different today," Ross confirmed. "We get every game live on NBC and can watch them on television screens that are bigger than the old movie screens, then we have the internet and social media, so it's easier to follow than it ever was.
"We can watch virtually every single game and our viewing experience on the TV is better than it is for the fans here in England. While we are watching our own football grow with the MLS, the most-popular league for viewing figures is the Premier League, by far."
A virtual family
While it is now possible to watch every one of West Ham's 38 Premier League matches on television in the States, for Hautzig and Ross, there is nothing better than being there in person.
The old friends fly to London at least twice a season to watch the Hammers, making their first visit to London Stadium for the recent fixture with Chelsea.
For the pair, it was an eye-opening experience a year on from their own personal – and unforgettable – Farewell Boleyn moment.
"Our final visit to the Boleyn was the FA Cup replay win over Liverpool, so we did pretty well! I think only the final game itself against Manchester United would have been a better way to say goodbye to the old lady!" recalled Hautzig.
"I've never had a connection with a club, either professional or collegiate, like I have with West Ham.
"In a world which is becoming so much bigger, football still has that local feel that is unlike so many other sports. West Ham still have their roots in the local area, and being part of that is what is so special."
Ross echoed those sentiments, pointing to the fact that the duo have made friends via social media and email who they now meet up with for matches whenever they are in east London.
"It's like being part of a family," he explained. "David has created a virtual family with so many other lifelong West Ham fans and when we come over, we meet up with them ahead of the game.
"We've been sports fans for our entire lives, but we've never had anything like this, building personal relationships with people we only see once a year!"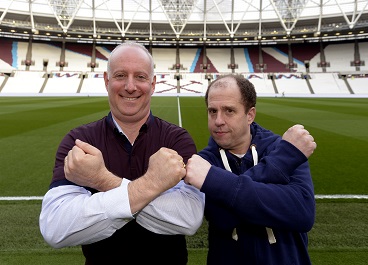 So, while the past has taken care of itself, what of the future?
Like many Hammers fans, Hautzig and Ross initially struggled to come to terms with the move from the Boleyn Ground to London Stadium.
However, having visited the Club's new home and as successful businessmen in their own rights, both believe the switch was a required and understandable step to take.
"I understand a lot of the harsh, hard realities of why the decision was made and not everything has happened as I thought it might, but that happens in all businesses," said Hautzig. "I get it rationally, but I'm not a rational person when it comes to things like this. I'm an emotional person.
"You cannot deny the impressiveness of the structure and as you walk around, you think 'Blimey, this place is breathtaking!'"
Ross, meanwhile, alluded to the Club's own history to support the argument for moving West Ham from of their home of 112 years to Queen Elizabeth Olympic Park.
"West Ham has been what I would call a second-tier Premier League team for a long time – one that is below the top ones, but certainly above many of the other clubs who either get relegated and fight relegation regularly," he explained.
"That position is very difficult to maintain in the economics of world football today. You're either going to be with the big boys or you could be relegated and stay down there for 20 years.
"To avoid what other clubs have gone through, you had to take a step like this to a top-class stadium.
"It's a branding thing, but that is nothing new. I heard a story that when the Club ceased to be Thames Ironworks FC and they were looking for a new name for the team, the debate was 'Should it be Canning Town or should it be West Ham?'.
"Of course, the team was local to Canning Town, but they thought West Ham would draw in more people. Right back in 1900, they branded 'West Ham United' as a way of making the club a little bit bigger, and that is what the move to London Stadium is all about.
"To me, doing what they are doing today is no different to what they did back in 1900."
That's what a Dad does!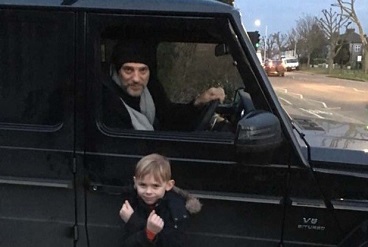 While Hautzig and Ross understand the motivation for the Club's moves off the pitch, they also endorse manager Slaven Bilic's philosophy on it.
Like so many West Ham fans, wherever they hail from, the pair want to be entertained, first and foremost. Their mantra is 'While winning is fun, doing so in style is more fun'.
For the two Americans, Bilic personifies the values which initially drew them both to follow the West Ham Way.
"Slaven really gets the emotional side of it," said Hautzig. "A few weeks ago, he took a five-year-old kid who was waiting outside the training ground in his car to meet Andy Carroll. That's not what a coach does, but what a Dad does!
"I'm a Dad too, and when he did something like that, it's clear he's an honourable gentleman."
Ross agrees…
"The West Ham Way remains important to us all. Our previous manager did his job and got us up and went on his way and we're grateful, but we have now hired a manager who understands that the fans demand a certain style of football.
"He understands it is not ALL about results, but about attacking, about entertaining and about going for it!
"As a fan, even when Bilic was struggling earlier in the year, I was like 'Hey, I know where this guy's heart lies and he's earned time to work his way through it'."