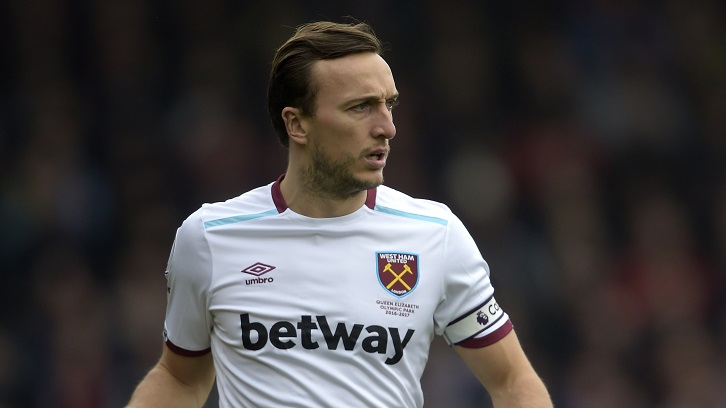 Captain Mark Noble admits the 2016/17 has been the most-challenging of his career
Off-field issues and inconsistent form and results have contributed to inconsistent campaign
But skipper insists the Hammers remain 'in great spirits' and will finish the season strongly
Mark Noble readily admits he will never be the sort of player who 'does four step-overs', but that does not reduce his value and importance to West Ham United.
The captain also concedes that his second season as skipper has been among the most demanding periods of his long career, with the lifelong Hammer dealing with stadium and training ground moves, the Dimitri Payet situation and indifferent form and results.
But, with very nearly 400 first-team appearances spanning more than 12 years under his belt, the  No16 is a big, strong character, and says he and the Hammers will continue to strive to finish the season strongly.
"Football is a game of moments now and if someone does four step-overs, they've had an incredible game!" said Noble. "That's not something I do. It's just football, you've got to live with it.
"We had a fantastic season last year but we were second-from-bottom not so long ago and we dragged ourselves up to ninth. We've lost a couple of places, but we're still in great spirits and I'm pretty sure we'll be fine.
We've lost a couple of places, but we're still in great spirits and I'm pretty sure we'll be fine

Mark Noble
"It's probably been the hardest [period] of my West Ham career over the last eight months, because we've had so much to deal with off the pitch. Obviously the move to the new Stadium and a move to a new training ground, the Dimi situation, so much has gone on and we lost four of our best players [Manuel Lanzini, Aaron Cresswell, Andy Carroll and Andre Ayew] to injury in pre-season, which is hard to replace.
"You've got to stick at it, the players have dug in and over the last couple of months it's been really good. Although we've lost a couple of games, in this day and age you're not allowed to lose games, even if one of them was against Chelsea!"
Noble also pointed out that West Ham players are not the only ones who have come under scrutiny this season, alluding to other experienced Premier League figures whose achievements have seemingly been forgotten.
"I don't like talking about people I don't know but it happens in football," he continued. "The things Arsene Wenger has done for Arsenal and some people want him out... Players like Wayne Rooney, some people want him out of the Manchester United team...
"I think the big characters, that's why we are captains of our clubs, because we can handle that pressure."