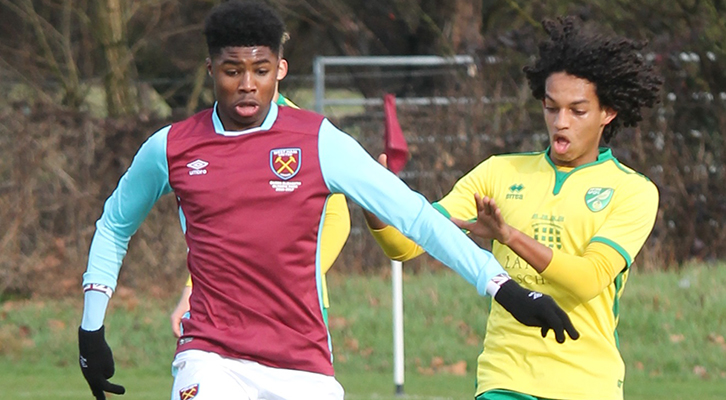 West Ham United U18s begin their Division One campaign of Premier League Phase Two on Friday against Chelsea (12.05pm KO)
The Hammers were beaten 3-0 by Chelsea two weeks ago 
But Ben Johnson thinks their performance against the Blues shows they can compete with the top sides
Ben Johnson thinks previous performances will give West Ham United U18s belief that they can compete with the best teams in the country.
The young Hammers begin the second phase of their U18 Premier League campaign against Chelsea on Friday, looking to avenge their 3-0 defeat to the Blues two weeks ago.
Johnson has been a consistent performer for the U18s this season and is excited for the challenges that will present themselves over the coming weeks.
He also thinks performances against Arsenal and Chelsea in their final two South division fixtures show that they can compete with the top teams.
"I think we are very excited as a team," said Johnson. "We did it the hard way to reach the top four but we did, over the season, deserve to be in the top four really and I think we can compete against the bigger teams.
"Arsenal in the second half, and probably throughout the whole game, we edged it. Against Chelsea, we rattled them in the first half but their quality came through but there's things we can work on and we can look at how they play. I think going into the game we are confident and hopefully we can get a result. 
We did, over the season, deserve to be in the top four really and I think we can compete against the bigger teams

Ben Johnson
Johnson has shown versatility this season, playing right-back, right-midfield and centre-midfield and is keen to show coaches his full potential, in the hope of gaining regular football for the U23s.
"I'm very pleased with how I've progressed this season," he continued. "I've played lots of different positions and I think I've done well but I think I should have had more of a shot playing for the U23s.
"If I keep playing my football and keep working hard, I can show Mark [Phillips] and Steve [Potts] how good I am really and show them my full potential."
The Hammers found out their fixtures for PL Phase Two this week and Johnson says everyone in the team is looking forward to facing the likes of Manchester City, Manchester United and Liverpool.
"Everyone is buzzing because you only know your level when you play against the best. We played against them (the top teams) last season and we did alright.
"We drew five and lost two which was decent against the big teams. We need to strive to get more points on the board and put in some good performances and see where we go from there."
West Ham United U18s host Chelsea at Little Heath Sports Ground this Friday at 12.05pm. Parking and admission are both free.