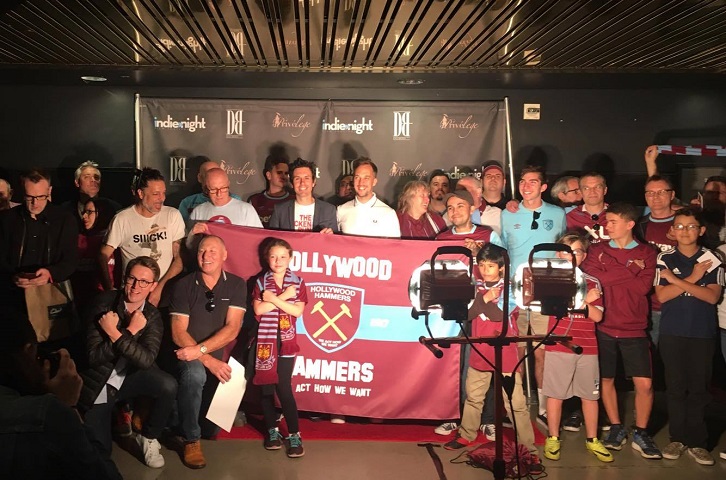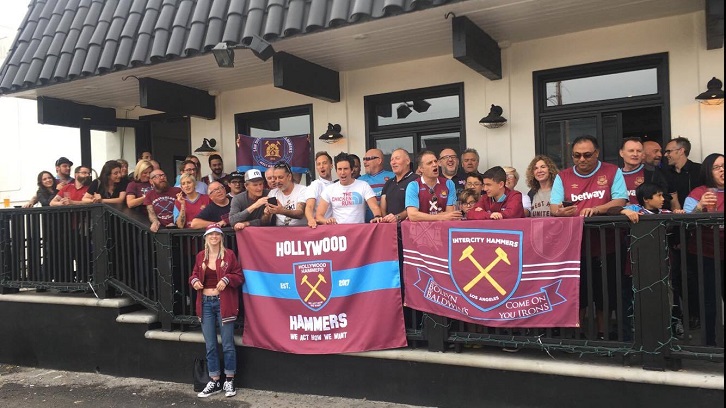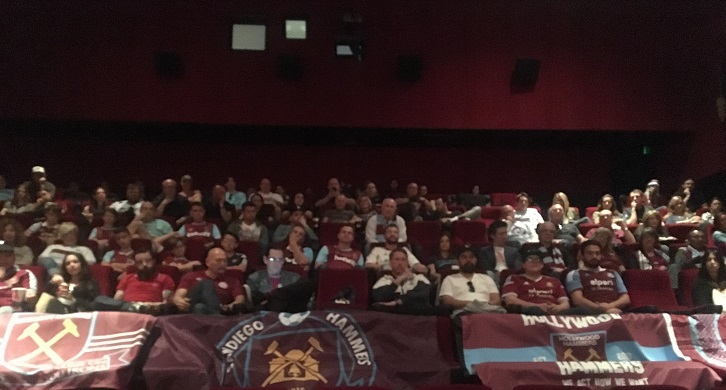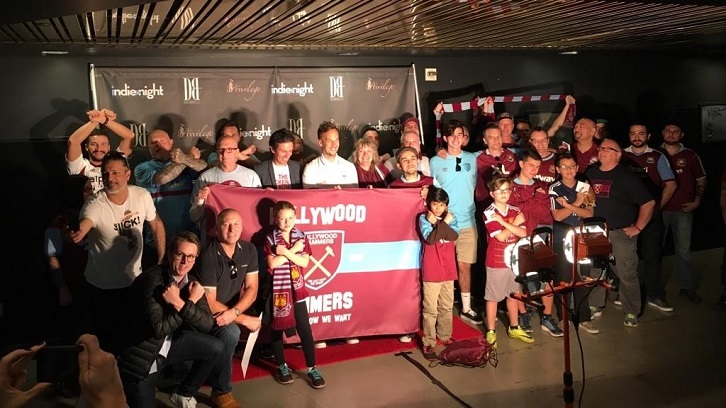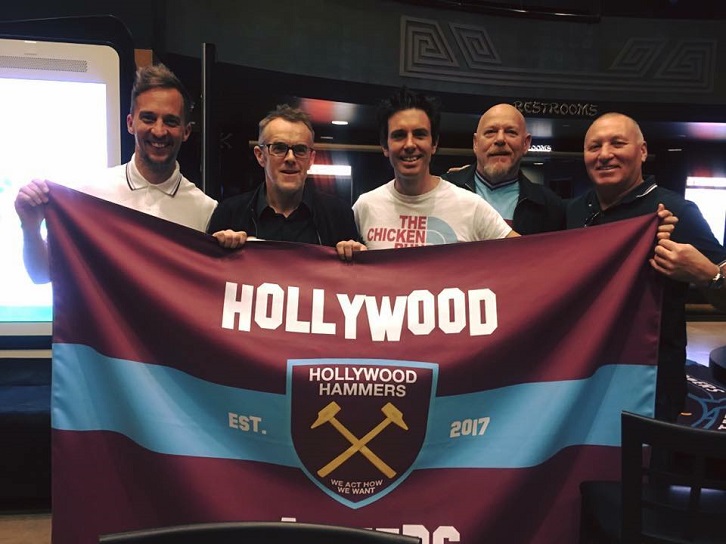 Around 150 supporters attend screening of IRON MEN film in Los Angeles
Stateside premiere organised and hosted by lifelong Hammer James Longman
New Hollywood Hammers supporters' club has been formed for California-based fans
Hundreds of Hammers headed for Hollywood for a special Stateside screening of IRON MEN.
Organised and hosted by lifelong West Ham United fan James Longman, who is based in Los Angeles and works as a producer on James Corden's popular Late, Late Show, the US premiere proved hugely popular.
Fans from all over California and beyond descended on the Chinese 6 Theatres on Hollywood Boulevard, where they watched the film charting West Ham's emotional departure from the Boleyn Ground and move to London Stadium.
In addition, Iron Men Films director Paul Crompton also took to the stage for a Q&A session with host Longman.
"We were delighted to welcome around 150 Hammers to the screening, which was followed by a fun Q&A with Paul and an after-show party," Longman told whufc.com. "There was a lot of emotion as we watched the film, which got a fantastic reception from all of us.
"We had fans fly in from San Francisco, San Diego and Tuscon, Arizona, and others head in from all around the Los Angeles area. It was undoubtedly the biggest meeting of Hammers in California so far!
"In conjunction with a fellow Hammer, Matt Hagger, we have now formed a new Hollywood Hammers supporters' club, which fans can follow on twitter @hwoodhammers."
Expat West Ham fan Mick Holdsworth was among the audience and was delighted to meet so many others of a Claret and Blue persuasion.
"Thank you to James for all the hard work you put in so I could attend the USA premiere of IRON MEN on Saturday," said Holdsworth. "The film is a fantastic record of the lead up to the last league match at Upton Park and shows the pride and passion of all connected with the club.
"It would have been a totally different film if the season had finished as planned with the defeat at home to Swansea, but the football gods shined on us with the re-arranged Manchester United home game. It was the perfect ending to our time at Upton Park.
"That must have been a dream come true for Paul Crompton. Our 100-year-old fan Mabel Arnold is without doubt the star of the show – whatever that lady is taking, I want some!"
"A pre-show meeting with fellow hammers, the film, the stroll to the pub, making new friends and a few pints. What more can an old Cockney want? I have been living in the States for 16 years and this is, without doubt, the best West Ham experience I have had – I can only dream of what our future holds!"
Hollywood Hammers aim to hold regular events for supporters in America's second-largest city. For more information, email [email protected].
IRON MEN, which premiered in front of a star-studded audience at the Genesis Cinema in Whitechapel on 2 March, is available to buy on DVD and Blu-Ray now here from the West Ham Store.