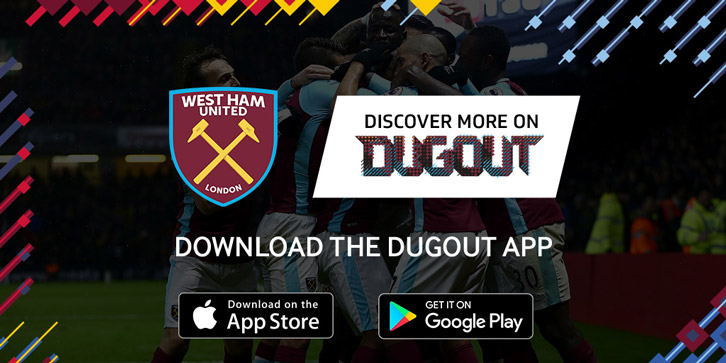 Dugout, the world's first digital platform supported by the biggest football clubs and players, has today launched its first ever app - giving Hammers fans unrivalled behind-the-scenes access and exclusive content straight to their mobile and tablet devices. 
The app's release follows the successful launch of Dugout.com at the end of November 2016, which has already seen over 8 million users join the platform, 13 million page views and 37  clubs create their own pages.
The Hammers were one of the first clubs to launch on Dugout - and by heading to the platform you gain access to exclusive free content - including behind the scenes action from the training ground, challenges and more.
This is all now available in the palm of your hand, so download the App now.
Dugout President, Elliot Richardson, commented: "Dugout was built for football fans across the world – delivering the ultimate place to explore and access the biggest clubs and players on the planet. The app launch is a huge moment for us because we now know most of our users are accessing the platform using their mobile, meaning that we can now give them a bigger, better and more personalised experience – with unparalleled amounts of exclusive and original content, produced by the world's biggest clubs and players working with Dugout and seen nowhere else, totally free."
In addition to clubs and players, Dugout is partnering with leading football influencers and legends to create their own profile pages and produce content exclusive to Dugout users.
Also launching today is an exclusive iMessage Stickers pack for iPhone and iPad. This fun addition to the Dugout product suite means football fans will be able to send more than a dozen stickers in chat or layer them on top of photos in iMessage.