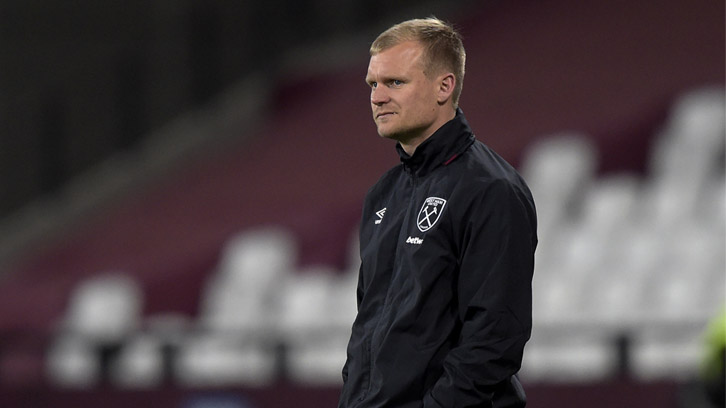 West Ham United Premier League 2 recorded a 1-1 draw with Stoke City at London Stadium on Tuesday night
Assistant boss Liam Manning looked immediately ahead to the final three league fixtures after the draw
The youngsters are still hoping to claim a play-off spot in the division
West Ham United Academy coach Liam Manning highlighted the importance of the U23s' last three Premier League 2 matches after a 1-1 draw with Stoke City on Tuesday night at London Stadium.
The young Hammers are hoping to finish in a play-off spot in the division but know they need some positive results when they face a trio of Newcastle United, Middlesbrough and West Bromwich Albion before the season ends.
Terry Westley's team – in the top five now – are currently three points ahead of sixth-placed Aston Villa.
And after the London Stadium draw, Manning's focus immediately switched to Monday's clash with the Magpies.
He said: "We need to pick up some results in the last three games to get in the play-offs and the pleasing thing is we have three games in three stadiums; Newcastle on Monday at St. James', back here against Middlesbrough and then away to West Brom at the Hawthorns.
"They're really good experiences for the boys and hopefully we can kick on and finish in that top five.
"We look at tonight's game at a development point of view, and we link that to winning and we obviously want to win games, but it's a really good experience for the boys tonight to come up against a different challenge.
"They were very organised and efficient at what they did so it was difficult."
"Hopefully we can kick on and finish in that top five. The point is definitely another step towards finishing in the play-offs."

Liam Manning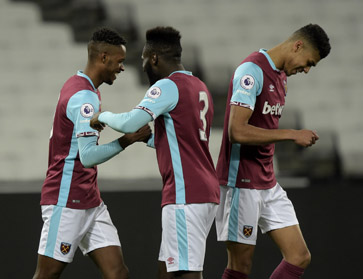 Stoke put men behind the ball after equalising through Julien Ngoy from the penalty spot following Declan Rice's foul on Ryan Hill.
Edimilson Fernandes, who played 15 minutes at the end of the first team's Premier League fixture against Chelsea the night before, had opened the scoring with a tidy finish with five minutes on the clock.
"The point is definitely another step towards finishing in the play-offs," Manning continued. "We said to the boys before and at half time, you go a goal up, that should be it. You should win 1-0, so we're slightly disappointed.
"But stepping away from the actual result and looking at the bigger picture, I think we've learned a lot from tonight in terms of the style of the opposition and how to deal with that. We couldn't quite break them down.
"There are a few teams who have been successful right now in the Premier League [doing what Stoke did], so it's good for the boys to experience that. It's another experience that allows them to be able to deal with it later on in their career."
The assistant boss was also pleased with the attitude shown by the likes of Fernandes, Ashley Fletcher and Arthur Masuaku who dropped down to play for the youngsters.
"The first team players who came into the side did well. It highlights that they need to play football regularly in order to stay on top of your match fitness.
"You can train every day and do that element but you need games in your legs to be able to perform, because it's completely different to training.
"They did well, their attitudes were good and they worked hard and did their best."