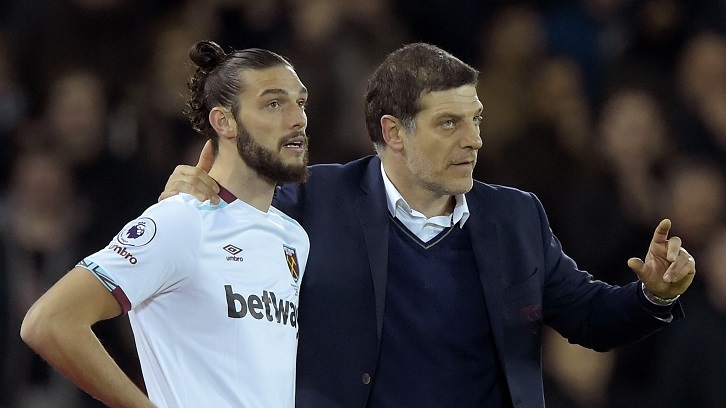 Manager Slaven Bilic writes for whufc.com ahead of Monday's Premier League visit of leaders Chelsea to London Stadium...
Hello everyone,
Tonight, we face the Premier League leaders and I, my players, my staff and I am sure all of you are looking forward to West Ham United versus Chelsea.
We will have a fantastic atmosphere at London Stadium, where we will give everything to repeat the victory over them we achieved in the EFL Cup back in October.
Of course, tonight is a completely different match and both teams have improved since that night, with Chelsea going into the game seven points clear at the top of the Premier League, and us looking to win, go back above Southampton and Stoke City and close the gap on West Bromwich Albion down to four points.
We are playing good and while some people might say this is a 'bonus' game, it's a home game and we're expecting something.
We know big time that we have to be on top of our game at both ends of the pitch, concentrate 100 per cent and show non-stop determination. If we play like that and get a bit of luck, which is always needed, when you play against them we can get a result.
I was asked in my press conference if we 'fear' Chelsea but of course we don't fear them, like we don't fear any opponent. None of our players would be in this position playing in the Premier League if they felt fear before a game. There is no fear at all.
There is respect, of course there is, and they deserve that for what they have done this season, Chelsea deserve more respect than any other team.
They are a top team and sometimes, when you play against a top team, you have a game plan on paper or on a board and you go 'Yeah, we will double them here and double them there, and look at all the space that we can use' and you go out on the pitch fearless.
That said, you can prepare as best you can, but then in the first five minutes they break you down, pass the ball and you can't get the ball let alone use the space and you realise 'they are brilliant'.
We have respect but no fear at all.
We have Andy Carroll back in the squad tonight, which is a big boost for us, particularly as we will be without Michail after his red card at Watford.
It means a lot to have him available. We have done well without him available but with him we may well have done even better. He is one of our key players.
It will be great to have him on a pitch tonight and I am optimistic that he will be fit to be involved. You know how much I rate him and how much we rate him.
We are not a one-man team though. We have a great squad and we are playing good, so we go into the game with confidence that we can do something good.
Enjoy the game.
Slaven