Players, fans, celebrities and guests flocked to the Genesis Cinema in east London on Thursday night for the exclusive first screening of Iron Men – ON SALE NOW – and their reaction was overwhelming.
Iron Men, released on DVD and Blu-Ray on Friday and available as a digital download via iTunes, Google Play and on XBox in 43 different countries, charts the historic story of West Ham United's farewell season at the Boleyn Ground and move to London Stadium last year.
An emotional rollercoaster of tears, laughter and triumph, culminating in the unforgettable scenes at the end of our 3-2 victory over Manchester United on the final day, Iron Men is the unmissable account of a journey that every Hammers fan will cherish, as proved by the reviews from those present on Thursday…
Mark Noble
"It's amazing because, in football, you forget. You forget how good last year was. It's amazing that was all documented and people can watch it again. The film is very good — for real West Ham people it is pretty emotional."
Winston Reid
"It's a long time ago — I can't really remember how the old stadium looks! It's nice to see it. It's a really good movie, especially for fans who have been coming to the stadium for a long time to relive the moments — it's nice."
Slaven Bilic
"The film will always be a great film, but that last game made it a special one. How did they know that we're going to have that game?! The perfect ending! It couldn't have been better. I didn't want to watch the movie on computer, or DVD, or whatever, I wanted to save it for tonight and it's great. It's about last season of course, the story of the season at the Boleyn Ground and I was excited to see it. It's a really good night for West Ham."
David Gold, Joint-Chairman
"It was incredible. The emotions swung backwards and forward, ups and downs, the film was amazing. And the stars of it are the fans. Mabel, for example, 100-years-old, was just fantastic. I thought it might just be an interesting documentary, but it was far more than that. The film is truly captivating and takes you along all the highs and lows of that unforgettable final season, which perfectly summed up what being a West Ham fan is all about."
Ray Winstone, celebrity Hammers fan
"It was a real labour of love for me, because when you start talking about West Ham, you get nostalgic, talking about where you grew up and what West Ham means to you, not just as a person but as part of a community. The film shows that there is a lot of heart at this club, and tells the story of where we came from and where we are going. I like talking and thinking about the past but in football terms, we needed to move on and I think in time London Stadium will become a fortress."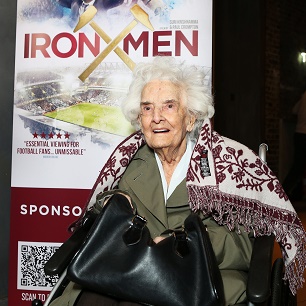 Mabel Arnold, 100-year-old star of Iron Men
"It was lovely to see the film and it brought back lots of memories, especially of that final match. I remember it was a very emotional night, I didn't stop crying! It was sad to leave the Boleyn Ground, but I love it at the new stadium, I can't fault it. And I'm pleased so many people seemed to enjoy the film."
Dave Batchelor, supporter
"It was a really good reflection on how all the fans feel and our emotions on that amazing night. I was at the last game and all those emotions came rushing back. Re-living the Manchester United game and all the emotions of that was amazing. West Ham fans who haven't seen it, it's a must watch. I've got a couple of copies for friends and I'd very much urge fans to watch it."
Tom Chapman, supporter
"It really showed our journey to the new Stadium, so it was so emotional. It's more about the fans – that's what it is all about. It's about their journey and their experiences and it's well worth a watch, for sure. The last day at the ground was one of the best days of our life, so it was great to be here tonight."
Rebecca Reynolds, supporter
"It was an amazing film – just amazing. That night, West Ham didn't let us fans down. We knew they wouldn't. It was great to see it all again. You've got to get the DVD – it's emotional, and everything came flooding back. I'm proud to be here."
To order Iron Men on DVD now, simply click here