West Ham United manager Slaven Bilic is feeling optimistic about Andy Carroll's fitness ahead of Monday's clash against Chelsea
The big forward has missed the Hammers' last two matches but looks set for his return at London Stadium
Bilic also dismissed rumours linking the striker with a potential move to China
West Ham United boss Slaven Bilic is confident key man Andy Carroll will be fit to face Chelsea when the Blues visit London Stadium on Monday.
The forward was back in full training with the rest of the squad on Wednesday after recovering from a groin problem that kept him out of the recent draws against West Bromwich Albion and Watford.
And having scored twice against Chelsea last season, the Hammers manager believes Carroll can make a huge impact should he return to the team for the clash with the west Londoners.
Bilic said: "Andy trained individually for the last few days and did everything with those medical guys, and then he joined us yesterday. Usually, the press conference is two days before a game, but this time, it's four days.
"We still have three training days before the game but it looks good, especially for him. Altogether, it will be a good week of training for him. That should be enough for him to be fit for the game.
"It will have been a good week of training for him. That should be enough for him to be fit for the game. I'm very optimistic.

Slaven Bilic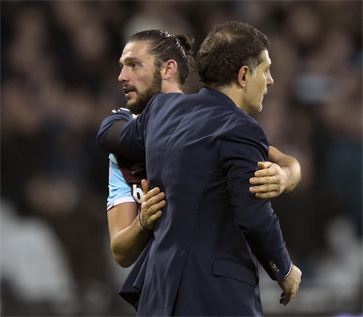 "I'm very optimistic about if he is fit or not, but it looks good. It means a lot to have him back.
"We have done well without him in the last few games but I'm sure we would have done better with him because he is one of our key players. It will be great to have him on the pitch on Monday."
Bilic was also quick to dismiss rumours linking Carroll with a move away from London Stadium, with China being reported as a possible destination for the 28-year-old.
"Andy knows how much we and I rate him," the Croatian continued. "He is one of our best players and we want to keep him. As far as I know, the Chinese clubs sent representatives to watch our game. Apparently they were watching other players but fell in love with Andy.
"It's certainly not the Club that has asked an agent to try and sell him. That's not the case. I suppose Andy would have been flattered as it's nice that people have a good opinion of you, but me and him didn't talk about it at all.
"We haven't been bombed with offers from China, so it hasn't affected me or Andy.
"It wasn't like we had three or four offers for our players from China. I heard the rumours and saw it in the papers but it didn't affect any relationships with the players or with Andy, so that's it basically. There is nothing to talk about there."