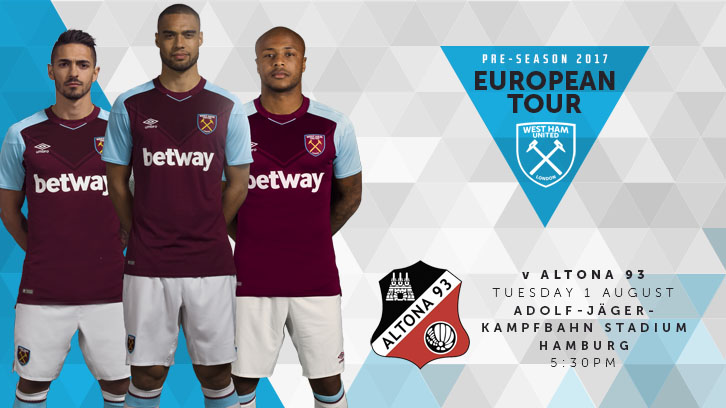 Nearly 5,000 tickets have already been sold for West Ham United's pre-season tour fixture at German side Altona 93.
The visit of the Hammers to the Hamburg-based club has clearly caught the imagination of fans in Germany's second-largest city, with the Adolf-Jäger-Kampfbahn stadium set to be rocking come kick-off at 6.30pm CEST on Tuesday 1 August.
Altona 93 spokesman Andy Sude said the competitive ticket prices had encouraged thousands of home supporters to see their team take on the visiting Premier Leaguers.
Tickets for West Ham supporters in the Stehplatz Gaster – Guest Terrace – section can be purchased online for just €10 now here. 
"We are very happy that we can present these treats to our spectators and football fans in and around Hamburg," said Sude.
"It's been a few years since a Premier League club has played in Hamburg and we are sure that many football fans are looking forward to this event at our time-honoured Adolf-Jäger-Kampfbahn."
Altona 93 enjoyed a fine 2016/17 season, finishing third in the Oberliga Hamburg – the regional fifth tier of German football – before missing out on promotion by a single goal in the promotion play-offs.
Founded in 1893 as a cricket club by a group of local students, Altona became a football club a year later and were one of the founder members of the German Football Association. They were crowned Northern Germany champions in 1909 and 1914 and twice reached the semi-finals of the German Cup in 1955 and 1964.
The Hammers will spend ten days in Germany and, prior to facing Altona, will tackle Bundesliga outfit Werder Bremen in the Betway Cup at the Sportzentrum Osterwald, Schneverdingen at 6.30pm CEST on Friday 28 July. Tickets for this match, priced at €15 for Adults and €10 for Concessions, can be bought here.
The two historic clubs will square-off again the following afternoon at 3.30pm CEST in a second Betway Cup tie at the Heinz-Dettmer-Stadion in Lohne. Seats for this fixture priced at €25 for Adults and €15 for Children, and standing tickets priced at €15/€8 respectively, are available online here.
West Ham will return to Germany for the fourth time in the last six summers next month, having competed in the Schalke 04 Cup in Gelsenkirchen in 2014, faced 1. FSV Mainz, SV Hamburg and Eintracht Braunschweig in 2013 and FC Rot-Weiss Erfurt, SG Dynamo Dresden and Energie Cottbus in 2012.
The Hammers also faced Germany opposition last summer in the shape of Bilic's former club Karlsruher SC in Austria, while Slaven Bilic's side also welcomed Werder Bremen to the Boleyn Ground for the Betway Cup in August 2015.