Reece Oxford believes his loan move to Borussia Monchengladbach is an opportunity to take the next step in his young career.
The Hammers youngster completed his move to Borussia on Wednesday and will begin his temporary spell with the Bundesliga club on July 1.
The 18-year-old could become the first Englishman to play for the German side and he thinks the move is a perfect to chance to develop as a footballer.
"From my first impressions, it [the club] looks good," he said. "The stadium looks good, people around the stadium seem to be welcoming, so hopefully I can just kick on now and get to know the boys when I get into training next week.
"I think [I chose to come to] Borussia because I have seen the squad and I've seen them play a few times and they play a few young players as well, so I think this will be a great step for me away from the family and everyone. Hopefully I can prove what I can be."
Oxford burst onto the scene at the age of just 16 when he made his Premier League debut at the Emirates Stadium in the 2-0 win over Arsenal in August 2015.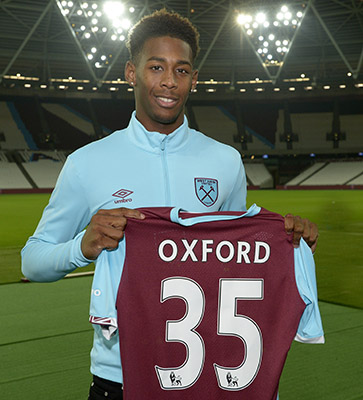 He joined Sky Bet Championship side Reading on loan in January and played five times as the Royals made it to the Play-Off Final at Wembley.
His move to Germany signals a new chapter for the young defender and Oxford hopes to follow in the footsteps of another young Premier League defender who spent two years on loan at Borussia, playing over 60 matches.
"I've seen [Andreas] Christensen play when he was at Chelsea. I think I played against him when I was only about 15 in the U21s and he's a good player. He did well here last year and the year before that, so hopefully I can follow in his footsteps too and lead the team to some good wins and success."
Oxford also gave Borussia fans an insight into the type of player he is.
"I think that I'm a good leader and that I can push the boys even though I'm young. I'll give it my all in every game, so hopefully the team can do that and we can just push on this season."
Hammers boss Slaven Bilic thinks the move is a "fantastic opportunity" for Oxford and looks forward to welcoming the youngster back to east London when the loan ends.