The Hammers are delighted to announce that Rich Energy have signed as Official Energy Drink of West Ham United Ladies.
Rich Energy come on board as the first partners of the Ladies team since Jack Sullivan took on the role of managing director, signing a long-term deal to link up with the Club.
Rich Energy is a premium and innovative British energy drink painstakingly developed and optimised with leading beverage experts.
With the sole objective of creating a peerless, ultra-high quality energy drink with none of the downsides of the competition, Rich Energy is available in 6,000 outlets in the UK and 21 countries worldwide.
Company CEO William Storey is a Hammers fan and Jack Sullivan is delighted to have the brand on board.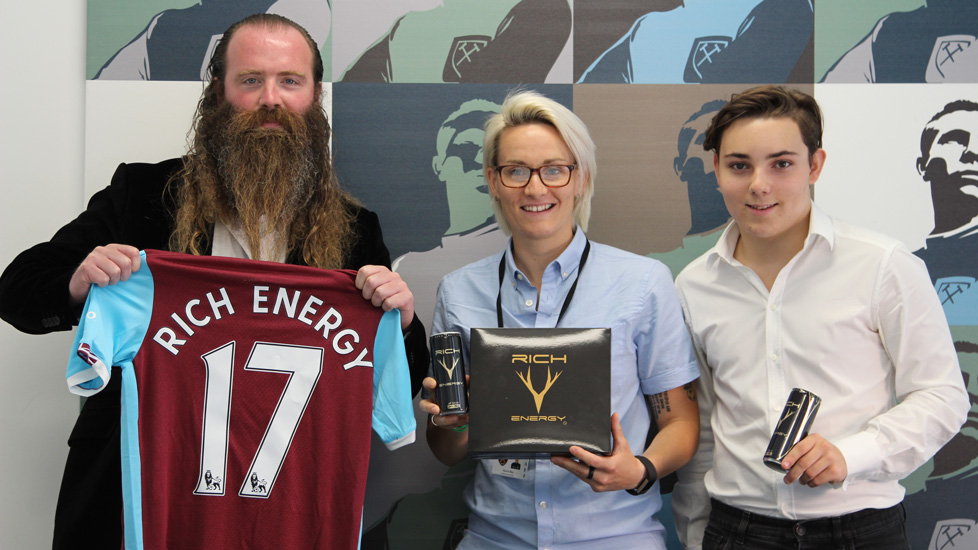 He said: "I'm over the moon that Rich Energy have become the first partner to get on board of hopefully a long list. They have seen what we're trying to do with the trajectory of West Ham Ladies and it's so great that a West Ham fan has decided to join part of the West Ham family and back Ladies' football.
"We share a focus on elite performance – we're going for the same goal and being powered by Rich Energy will hopefully see us power up the leagues and challenge at the very top."
It was a sentiment echoed by Storey, CEO of Rich Energy, who added: "Women's Football is burgeoning around the world, growing very quickly in the UK and America. It's fantastic, not only as a spectacle for fans, but also for women to get involved in sport from school upwards. 
"With West Ham being one of the biggest brands in world football, it's a phenomenal privilege for us to work with such a great business and team.
"I think West Ham Ladies are going to go from strength-to-strength and as the UK's premium energy drink we're obviously really keen to support elite performance. There's no better fit than with West Ham Ladies."
West Ham Ladies General Manager Karen Ray said: "For me, having played for the team and now being General Manager, to see the advancements we're making is great. Having Jack Sullivan involved as managing director and now with Rich Energy to back us it can only be good from here.
"We have a five-year plan to become a top-six club in the country and I believe with the backing of companies such as Rich Energy, we could get there quicker."
West Ham United Ladies currently have opportunities to become a partner or patron of the Club, where you will personally make a difference to the successful development of our ladies team.