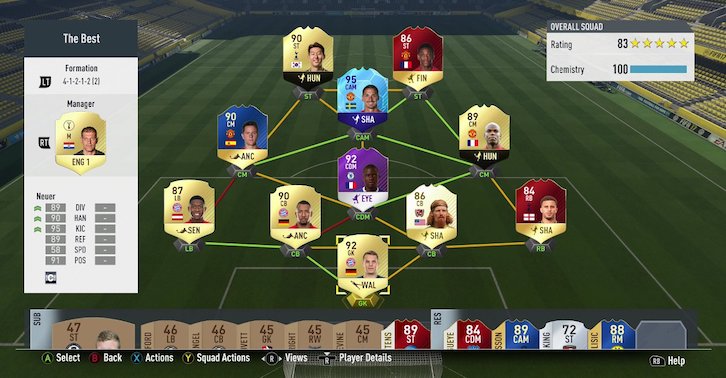 Jamboo has completed his second weekend of FUT Champions and with 70 wins from a possible 80 so far, the 21-year old sits inside the Top 100 monthly European rankings.
"It was a mixed weekend" he said.
"I probably played the best I have in a long time but again a few things out of my control have frustrated me."

36 wins and four defeats over the course of the weekend mean that, after two weekends in June, he sits 87th in Europe.
A slight tweaking of his system for June meant that this weekend Jamboo operated a 4-1-2-2 formation, which included Legend card, Alexi Lalas in the heart of his defence. Despite the inclusion of goalkeeper Manuel Neuer and fellow Bayern Munich teammates Jerome Boateng and David Alaba, his side was dominated by Premier League stars.

Player of the Year card, N'Golo Kante operated in defensive midfield with Paul Pogba and Team of the Season, Ander Herrera either side. The front three was Zlatan Ibrahimovic, Heung-Min Son and Anthony Martial.
"I changed from the 4-3-3 to a 4-1-2-1-2 Narrow and played my best FIFA in weeks.

"It was still a standard team for me with it being mostly Premier League, but I did use the Bayern Munich back line and goalkeeper."
The weekend began perfectly too as he raced to 12 wins in a row on Saturday. However, Jamboo was once again let down by connection issues which eventually cost him a potential 39-1 record by the end of the weekend. Such a record could have seen him climb in to the top 50 in Europe. In the end, he had to settle for 36-4 with three matches disconnecting and counting as defeats - each of those he was leading at the time of the interruption.
"I feel like I was playing the best FIFA I have in a long time, especially considering last month was a disaster.
"For the first time in a while I felt like 'I was back'. Now I'm looking good for a comfortable Top 100 monthly finish and I'll try specifically to hit another 40 [out of 40] as well. I miss the feeling!"
You can continue to follow Jamboo's progress right here on whufc.com.