West Ham United fan and Hatton Garden Job star Stephen Moyer has talked about how immersed himself in the role of Marcus Ford.
The Essex-born actor takes on the role of East End high-roller Ford, who was one of the criminals involved in the now infamous burglary of safety deposit boxes containing jewellery worth an estimated £14m in April 2015.
The underground heist saw a group of veteran thieves drill through 50cm thick vault walls before making off with their ill-gotten booty. Seven men have since been found guilty and jailed for their roles in the crime.
The Hatton Garden Job, which was produced by Signature Entertainment and directed by Stephen Thompson, is available on Blu-Ray and DVD from all retailers nationwide from Monday 12 June at 9am – the perfect gift for Father's Day!
Click here to buy the Hatton Garden Job on DVD or Blu-Ray now!
Moyer, whose role as vampire Bill Compton in the hit HBO series True Blood has made him a household name, said he had to empathise with Ford, despite his criminal intentions and actions.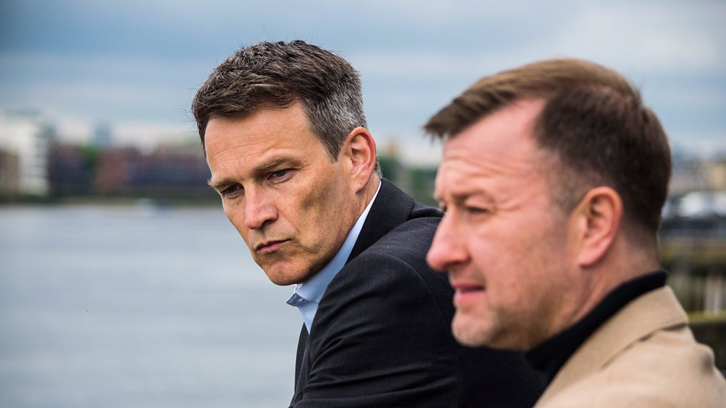 "I think that it's very difficult to play any character if you don't find something that you like in them," the 47-year-old told ContactMusic.com. "Even if you read something and you don't particularly like the person, I'm not saying that that's the case with this, but you have to find something that you like about them in order to make it believable for you.
"Ultimately, I always say that you kind of have to love the guy you're playing even if he's despicable.
"I always end up loving the people I play. For me it's not about right or wrong unless the story's about right or wrong."
California-based Moyer, who has also starred in the recent hit drama Shots Fired, is a lifelong Hammer and visited the squad during their pre-season tour of the United States in summer 2016.
The biggest heist in British history. This is the remarkable true story. The Hatton Garden Job is available on DVD and Blu-Ray on Monday by clicking here.