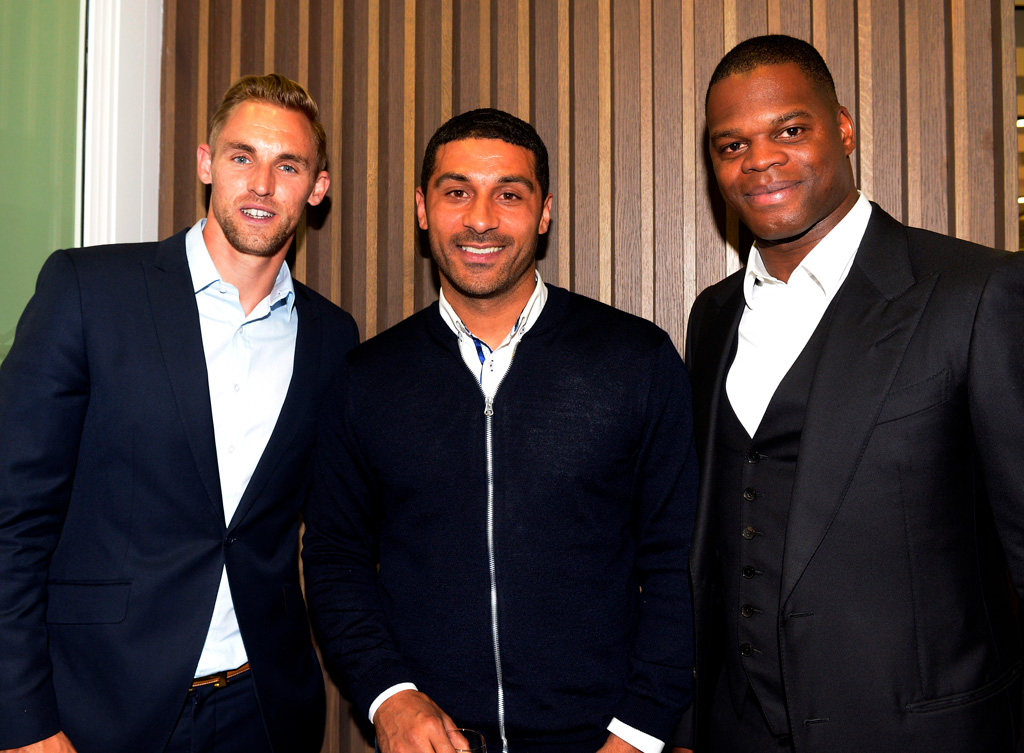 Jack Collison is one of several West Ham United legends who have been welcomed to London Stadium this season as Matchday Ambassadors in the Club London hospitality lounges.
Jack, who made 117 appearances in the claret and blue between 2008 and 2014, has been joined by the likes of Brian Dear, Alan Taylor, Keith Robson, David Cross, George Parris, Mark Ward, Stuart Slater, Allen McKnight, Martin Allen, Kenny Brown Jr and Steve Lomas in the newly-created role, which sees former Hammers stars mingling with guests and supporters in the Club London lounges before matches.
Here, Jack talks about his experiences as a Matchday Ambassador this season and the special bond he shares with Hammers fans… 
I've always enjoyed coming back to West Ham but it's even better now.
To spend time with the supporters before matches in the Club London lounges has been a fantastic experience. To be able to share memories about the past, discuss the current team and debate how we think the game might go is what being a football fan is all about, and I've really enjoyed the Ambassador role. Each Club London lounge has a different vibe and atmosphere, but everyone is there for the same purpose – to enjoy themselves and see West Ham win! It's a great way to experience what we all love most.
There's nothing quite like the build-up to kick-off on a matchday.
Whatever might have gone on the week before or in previous games, that optimism is always there before a match and it's brilliant to be a part of that atmosphere. When you're walking up to that magnificent stadium and all of a sudden it comes into view – it's absolutely breathtaking. Then you get inside and you're waiting for the team-sheet to come round, debating who might be in or out. As it gets closer to kick-off, you see the players coming out for their warm-up and it just builds up really nicely to kick-off. Then you step outside, and Bubbles is ringing out. It really is a special atmosphere.
I was pleasantly surprised when I first took on the role as a Matchday Ambassador.
There is a perception that hospitality lounges at football clubs are full of people not really interested in the game – the prawn sandwich brigade as they say - but that is most definitely not the case at London Stadium. The supporters I have met in all the lounges are real West Ham fans, through and through. They've been there through the good times and the bad times and they certainly play their part in creating the special atmosphere that our fans are famous for. Of course, you can still have a prawn sandwich if you want! But there are lounges where you can have a pie and a pint, and that is the beauty of Club London. There is something for everyone and all tastes are catered for.
Chatting to the supporters is something I never grow tired of.
The thing that has most impressed me is that there are so many different generations of West Ham fans in the lounges. There are young kids in there who might have never seen me play, but then you have their parents who say they really enjoyed seeing me come through from the youth ranks. There are also a lot of fans around my age who I naturally bond with because I was lucky enough to live the dream that they had at the same time as me. And then you've got the old boys who like to reminisce about Bobby Moore and co. They've all got different stories to tell and memories to share.
It's nice to share my experiences and give my take on things as a former player.
People always like to gain a bit of an insight into the game, and they will ask me for my opinions on the current players and team. More often, though, they are keen to hear stories about my time as a player, what was going on inside the dressing-room at that time, who I enjoyed playing alongside and who I didn't! Having been on that side of it and had a taste of what the current players may be going through now, it's nice to share that with the supporters now that I'm one of them.
The supporters are what makes this football club so special.
I was very fortunate. The West Ham fans love nothing more than seeing one of their own make it through from the youth team to the first team, and I think right from that moment when I scored my first goal for the Club - against Everton at Upton Park – I always had that special bond. They were there for me for the whole journey, through the bad times I endured – the injuries, and obviously losing my dad, to the good times – scoring some important goals and winning promotion to the Premier League at Wembley in 2012. As a young man growing up and going through life, I was lucky enough to experience it all through football and to live out my dream in front of those fans.
I think the matchday experience will be even better next season.
One thing that people like is routine. It was always going to take time for people to settle in to the new stadium, and naturally there were a few hiccups to begin with, but I feel like everything is in place now. Now the supporters who go to every game have got their routine and that crucial familiarity is there. They're embracing it and hopefully over the coming years they can really turn it into a fortress and build the history that will make it truly feel like home for everybody.