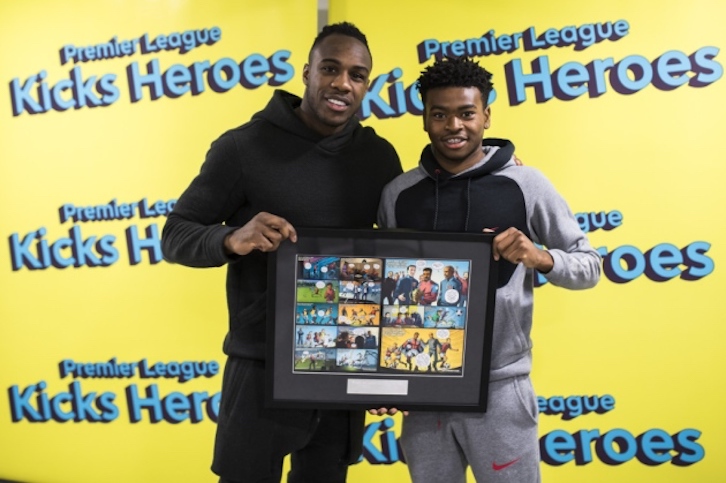 West Ham United have named aspiring footballer Malachi Napa, 17, of North Woolwich, as the club's Premier League Kicks Hero, as part of the Premier League's 10-year celebration of the social inclusion programme.
Hammers winger Michail Antonio took time out after training to present Napa with his Premier League Kicks Hero accolade – a framed comic book illustrated by Marvel artist John McCrea.
The bespoke comic depicts Malachi's journey through Kicks which began aged 12 and led him to sign a scholarship with League One side Oxford United in 2015.
Premier League Kicks is a youth outreach programme with the aim to create safer, stronger and more respectful communities through the development of young peoples' potential, whilst giving young people access to facilities, coaching and mentoring.
In its first decade, Premier League Kicks has engaged more than 180,000 young people in weekly football, sport and personal development sessions held at local community venues across the UK.
A total of 68 Premier League, English Football League and National League clubs now run the programme and the WHU Foundation offers Kicks projects in Newham and Tower Hamlets, working with local authorities to provide sporting and educational opportunities for people aged 11-19 as well as increasing their volunteering and employment prospects.
Napa was obsessed with football from a young age, but found opportunities to play were limited in the North Woolwich neighbourhood in which he grew up.
Aged 12, he attended his first Premier League Kicks session organised by the WHU Foundation and soon became a regular attendee under the stewardship of Kicks coaches including George Chukwuma, with his confidence improving both on and off the pitch.
A highlight of his time at Kicks was being selected to represent West Ham United at the Premier League Truce Tournament in November 2014.
The tournament honours the Christmas Day Truce of World War One when soldiers laid down their weapons to play football and exchange gifts.
This was a particularly special experience for Napa as it was his first overseas trip and his side emerged victorious from the tournament.
Napa was recently given a one-year professional contract with Oxford and said: "It's great to see my time at Kicks being transformed into a comic book story and it makes me proud of how far I've come.
"Looking back at it all now, I feel very lucky to have met great coaches like George and for the opportunity to play football in Belgium. That was a very exciting experience for me.
"Meeting Michail Antonio has been another amazing part of this journey. I really look up to him as we play in the same position, so it was great to hear advice from a Premier League footballer like him. He told me to keep doing what I'm doing and I'll end up where I want to be, which was very encouraging."
Antonio added: "Malachi is a good example of how someone can achieve great things when they focus on what they want and work hard for it.
"He is going in the right direction and he definitely deserves to be recognised by West Ham United as the club's Premier League Kicks Hero.
"Malachi has achieved a lot and he has a good heart. He doesn't only wish to succeed for himself, but for his family as well and it's important to stay focused on that goal. I wish him all the best with his playing career and see a bright future for him."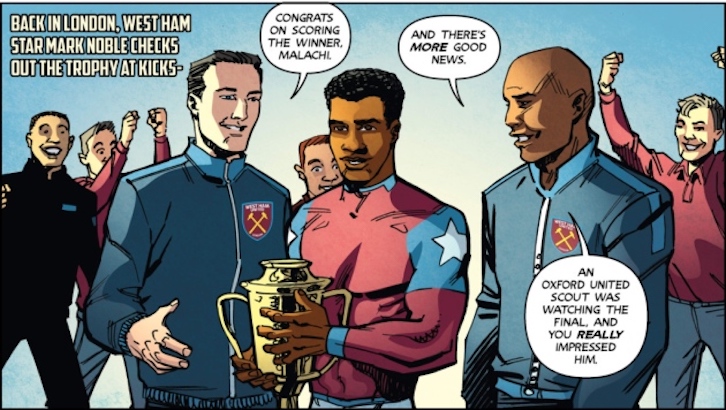 Premier League executive chairman Richard Scudamore said: "Premier League Kicks delivers sessions for young people where they are needed most, connecting football clubs with their communities in a meaningful and sustainable way.
"The Kicks Heroes campaign allows us to highlight some of those inspiring individual stories – like Malachi's – and celebrate their achievements and thank the 68 Premier League, English Football League and National League clubs currently delivering the programme."
Sports Minister Tracey Crouch, who was at the launch of the Premier League Kicks Heroes campaign in Tottenham in December said: "Over the past decade Premier League Kicks has made an invaluable contribution to the lives of tens of thousands of young people across the country, encouraging them to get into the game in a safe and secure environment that has brought communities together.
"There are so many brilliant inspirational stories of how people have benefitted from their involvement in the project and I hope it will benefit thousands more in the years to come."