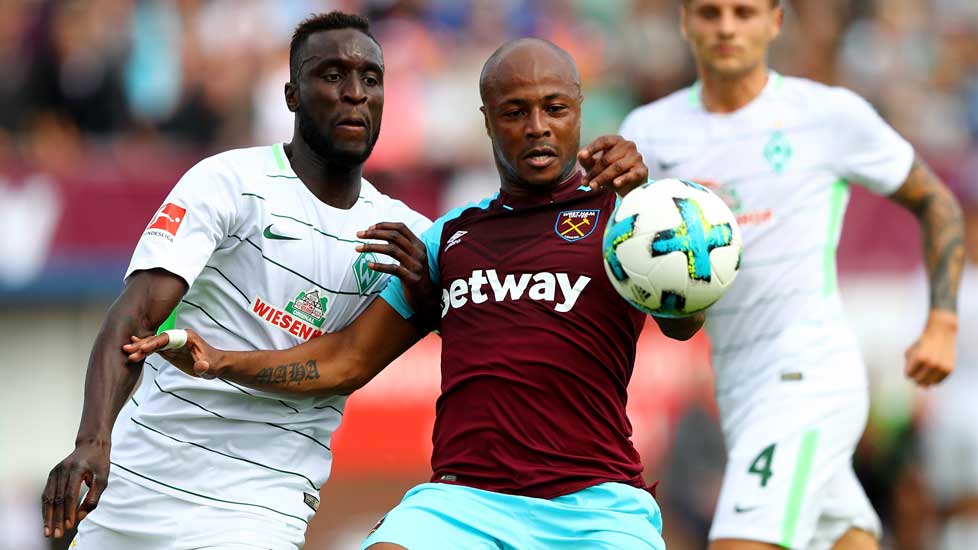 Andre Ayew is excited by West Ham United's attacking options.
The Ghana forward is relishing the prospect of working alongside the likes of summer signings Chicharito and Marko Arnautovic, as well as influential No10 Manuel Lanzini.
With Diafra Sakho, Michail Antonio and Andy Carroll also working their way towards full fitness, Ayew believes Slaven Bilic has a strong armoury at his disposal.
"It's good and I'm happy to see these good players coming in," said Ayew, who provided a superb assist for young Spanish striker Toni Martinez's goal against Werder Bremen on Saturday. "I think we have a good squad, but now we have to do the job on the field and that's another thing altogether.
"We already had good players in the squad and now we've added some more good players, so that's really important for a club like West Ham to get to another level.
"I feel like we are going to be capable of doing good things but we need to stay humble, work hard and don't think we have done it before time."
Concentrating on Chicharito, Ayew says the Mexican's international and UEFA Champions League experience will be invaluable.
Having played under intense scrutiny for hometown club Guadalajara, Manchester United, Real Madrid, Bayer Leverkusen and his country, Chicharito has successfully learned how to succeed at the highest level.
Ayew also believes his mere presence will boost his new teammates, who will now spend hours on the training pitch devising how to best serve the prolific striker's goal-poaching qualities.
"It's good to have players to play alongside who have played for great clubs at the highest level as they know the expectations. Players who have played in the Champions League are what I like.
"When you play with players you know have played to that level, especially when you too have played there against them years before, it's good for you as a player, it's good for the club and good for the fans, especially.
"I feel he's going to bring a lot of fighting spirit, a lot of trouble for the other defence and we need to start training together to really know what he likes. When you watch games, it's different from when you are training and you get the feeling more to know his movements, what he likes and doesn't like and we have to adapt to him the same way he has to adapt to us.
"We will try to find the best ways for him to get goals for us."