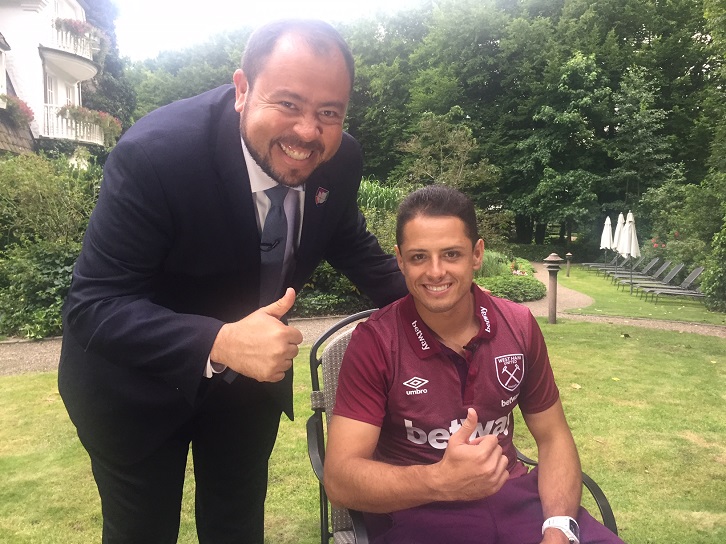 Catching up on daily life with Slaven Bilic's squad after a busy weekend in Germany…
The Little Pea with a big following
He may be yet to pull on a Claret and Blue shirt, but Javier Chicharito Hernandez is already the star attraction at West Ham United's German training camp.
The Mexico superstar arrived in Rotenburg on Thursday afternoon, having visited Paris to complete his successful UK visa application. En route from France to Germany, the 29-year-old was repeatedly recognised by fans and, being used to the attention, happily signed autographs and posed for selfies.
On arrival at the team hotel, two Spanish-speaking television crews, including Raul Guzman from USA-based Univision, were on hand to capture the big moment, as were Sky Sports News reporter Paul Gilmour and cameraman Rich Harlow.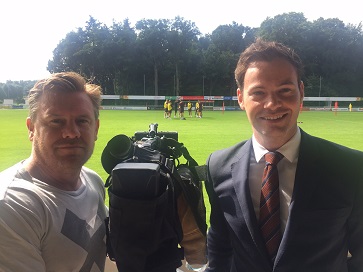 Gilmour and Harlow had also travelled to West Ham's Austrian training camp earlier in July and were delighted to be rewarded for their hard work when
Chicharito
held a press conference at the hotel later that evening.
"Pre-season is a little more laid-back and the access to the manager and players is better, as obviously they are under so much more pressure during the competitive season," Gilmour told us. "They are working hard, but they are also relaxed and it gives us an opportunity to get some great coverage!
"Myself and Richard had really enjoyed it. We've been on many of these pre-season trips and this one is right up there because of the level of access, which we don't get at all clubs."
Harlow agreed with his colleague's sentiments, adding: "It's the second year I've been to Austria with West Ham and we're welcomed by the squad, who are always happy to chat and keep us entertained when we're filming.
"Mark Noble and Ginge are always good value and obviously everyone is absolutely buzzing about the four new signings."
Familiar surroundings
One member of the West Ham United party who is definitely feeling at home in Germany is first-team coach Edin Terzic.
The 34-year-old was born in the town of Menden, just south east of Dortmund, and played semi-professionally for a number of clubs, including Wattenscheid and Cloppenburg. He then coached at Borussia Dortmund under Jurgen Klopp before joining forces with Slaven Bilic at Besiktas four years ago.
Terzic has naturally enjoyed being back on home turf, while training at local club Rotenburger SV has brought back memories of his own playing career.
"Football is very popular in Germany of course, the number one sport, but in this part of the country there are not so many really big teams, just Hamburg and St Pauli in the north and Werder Bremen further south, and fewer amateur clubs," he observed. "Where I am from, near Dortmund, you have a concentration of around 16 million people, so not every club has the space and money to have facilities like the ones in Rotenburg.
"I feel comfortable around here, of course, because I hear German spoken all the time, I am eating German food and I can talk to everyone, but while everything is nice we are here to work and it all comes down to what we do on the pitch. It doesn't matter if I am in Germany, Iceland or Austria, because it's about using this moment to improve!"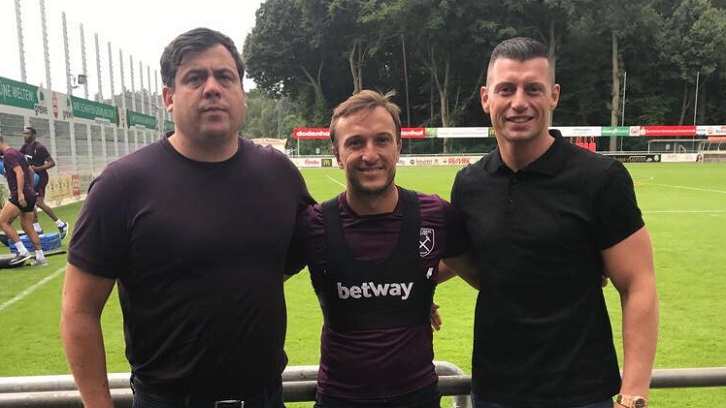 Auction winners
West Ham United welcomed two guests to their training base this week in the shape of John Oldfield and Terry Comitti (pictured, above).
The lifelong Hammers and Club London members were lucky enough to win the bidding for a unique auction prize at the recent 2016/17 Player Awards, namely to spend time with Slaven Bilic and his squad in Germany.
The pair enjoyed fantastic behind-the-scenes access, drinking coffee with the manager, eating lunch with Mark Noble and company and even welcoming new signing Chicharito to the team hotel!
Matchday experience
West Ham United's visits to Schneverdingen and Lohne for their Betway Cup ties with Werder Bremen saw the Hammers turn out at two stadia that are seldom visited by crowds numbering in the hundreds, let alone the thousands.
Staff at both FC Schneverdingen and Blue-Weiss Lohne worked tirelessly to make their respective grounds ready for two squads packed with international stars, resulting in two seamless matchdays.
Betway branding was added, while provisions were made for Premier Sports to produce two live broadcasts and food, drink and even a tombola stall were erected.
Over land and sea…
Hundreds of West Ham United supporters travelled to Germany to watch their team take on Werder Bremen – twice in the space of 20 hours!
The Claret and Blue Army descended from England, Switzerland and all over Germany, hanging dozens of flags at the stadia in Schneverdingen and Lohne.
The vociferous support, including repeated choruses of Bubbles, undoubtedly added to the atmosphere as the Hammers were edged out 3-2 on aggregate by their Bundesliga opponents.
It would be a huge surprise if the Cologne Hammers flag was not on show at Altona 93's Adolf-Jäger-Kampfbahn stadium on Tuesday evening!