The rain may have been lashing down, but it couldn't dampen the spirit and enthusiasm of the West Ham United Ladies as they gathered together at the Rush Green training ground on Saturday afternoon.
While Marko Arnautovic was claiming his first goal in a Hammers shirt for the men's team out in Germany, all six of the Ladies' squads, from Under 10s all the way up to the first team, enjoyed their first Club Media day to celebrate the impending start of the 2017/18 season.
All squads had their official team photographs taken for the new campaign and then took part in a range of training drills and exercises in front of family and friends supporting from the sidelines, who enjoyed refreshments provided by The Ribman and kept their energy up with drinks supplied by Rich Energy, official partners of West Ham United Ladies.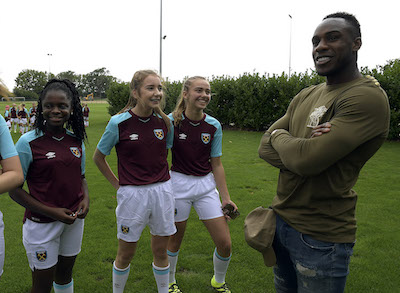 Also present was reigning Hammer of the Year and official Ambassador to the West Ham United Ladies, Michail Antonio, who spent time chatting to the players, meeting their families and hearing all about the exciting plans that have been progressing ever since the restructuring of the Ladies' set-up was announced back in May.
Antonio, who had been at Rush Green earlier in the morning continuing rehabilitation work on his hamstring injury, insisted on staying behind until the Ladies' teams arrived so that he could show his support.
"It's been fantastic to see everyone here today," he said. "I am genuinely honoured to be an Ambassador for the West Ham United Ladies, especially at such an exciting time for them.
"There is a great atmosphere within their set-up, and I really enjoyed meeting the players, especially the youngsters who are just starting out on their journey and learning the game in such a great environment."
General Manager Karen Ray, who organised the event, was delighted by the response of everyone present and celebrated a hugely successful day.
"Today was all about the players," she said. "We wanted to really solidify and celebrate being part of the club.
"Seeing all six teams interacting together really encompasses exactly what a family club we are. 90 players, from age eight through to 28, all enjoying each other's company and sharing their love for football is empowering.
"At West Ham United Ladies we strive to have a positive impact on every player's life and today will really give them all a wonderful memory to inspire them for the new season.
"It was a great way to kick off the five-year plan that will drive us to be a top Super League team and really enhance the profile of the club.
"Now we can look forward to kicking off the season on August 20, when we head to Gillingham for the opening game."
Look out for some brand new features on the West Ham United Ladies, coming soon on whufc.com…