West Ham Tv
Slaven Bilic: Arnautovic is a complete player

Slaven Bilic believes 'complete player' Marko Arnautovic will be a huge asset to the Hammers in the coming years.
Arnautovic spent three seasons as a youngster with Bundesliga club Werder Bremen – who West Ham United face in a Betway Cup double-header this weekend – where he enjoyed a love-hate relationship with members of the football-obsessed local press.
The local German media quizzed Bilic about Arnautovic's time in Bremen, but the manager was unmoved and instead explained how the Austria international has been a model professional throughout his four years in the Premier League with Stoke City.
"Marko was at Inter Milan and Werder Bremen not without a reason, he was there because he was a big talent and all that, with great stature and great skill and everything," the manager observed. "But he was definitely very young.
"Marko has spent four years in the Premier League at a very good club in Stoke and he improved and developed into one of the best, if not the best, of Stoke's players. He did four seasons and that's the reason why we targeted him as the player that we wanted to get.
"It's not based on a small pattern of ten or 15 games, or even one season but it is four seasons of playing really good football. He wanted a new challenge and he's ambitious as well so when the opportunity occurred, we jumped on it and we tried to do it and we are delighted to get him.
"The expectations are high, of course, but he knows the league, he's been there and we watched him week-in, week-out and our expectations are high too. We're going to help him and we're expecting big things from him."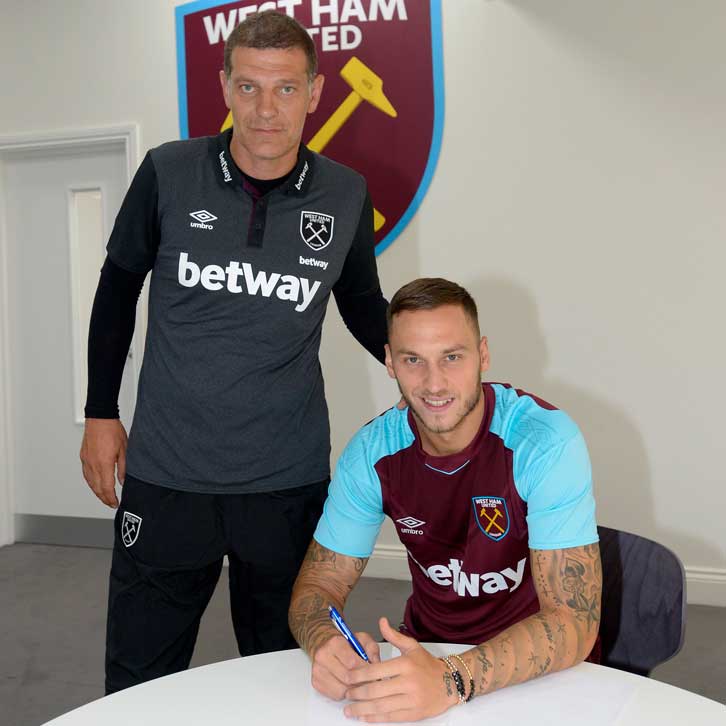 Bilic believes Arnautovic is now not only a top player but a top professional following four outstanding seasons for Stoke, where he scored 26 goals and assisted 32 more in 145 appearances.
"A lot of things happen to young players and it's not easy to cope with them when you are 19 to 22," he continued, when pressed on the subject. "Of course, that was an issue, but I've done my homework.
"I know, because I am Croatian and Marko is old Yugoslavian, that I know the people around him and understand him better than if I was English or British or German.
"I have talked to my staff also, but for me the reference point was not when he 20, 21, 22 to 23 when he was at Inter or Bremen but for me the long reference was four seasons in the Premier League when I didn't read or hear anything bad or strange about him. On the contrary I heard good things.
"Alright he is a strong character, but that's the case for many players who can help you like this on the pitch. It's about controlling it and I believe he's going to be a great professional for us."
Marko was at Inter Milan and Werder Bremen not without a reason, he was there because he was a big talent and all that, with great stature and great skill and everything

Slaven Bilic
When asked where he will deploy his new Austrian attacker, Bilic was effusive in his praise for the 28-year-old, describing him as a 'complete player' but adding that he can still add to his already impressive game.
"Marko is a player who can play all those three positions behind the striker, or he can play as a second striker as well," he observed. "Most of the time for Stoke, he played on the left so he is kind of a striker on the wing.
"He's very strong, he's versatile, he can cut inside and play some balls and he likes to beat players one against one. He likes to be in the box and he needs to be in the box more, to be fair, because it is difficult for the full-backs to mark him when the cross comes.
"He also has good stamina so he can track back and he's got really good skill, so he is good in link-up play, so he's a complete player. We're going to try to get him to push his limits because he can be better also.
"Now it's our job and his job to be focused long-term to get his game to another level, because the potential is definitely there."