Andre Ayew is hoping a full pre-season will help him pick up where he left off when the Premier Legaue campaign begins.
West Ham United's Ghana international forward ended 2016/17 in fine form, scoring five goals in the 13 appearances he made after returning from the Africa Cup of Nations in mid-February. Indeed, Ayew admits he would rather the season had not ended when it did, with his winning goal in a 2-1 victory at Burnley in May.
Now, after a summer virtually free of international commitments, the 27-year-old believes spending the whole of July with his club-mates will stand him in good stead come 13 August.
"I'm feeling good and working hard. We had long days in Austria and now we're just at the beginning in Germany and we have a few games to come," he told West Ham TV. "We're working hard here, trying to get fit, working together and getting to know each other, so it's sweet."
"Pre-season is something which is very, very important and, for me, I've not been able to have a real pre-season for a long time because of the international games.
"I have always been coming back later, so to start the pre-season with the squad is quite good. I think I'm going to have a month or more with the squad before the pre-season starts so it's a good opportunity for me to get myself back together and to feel good before the season."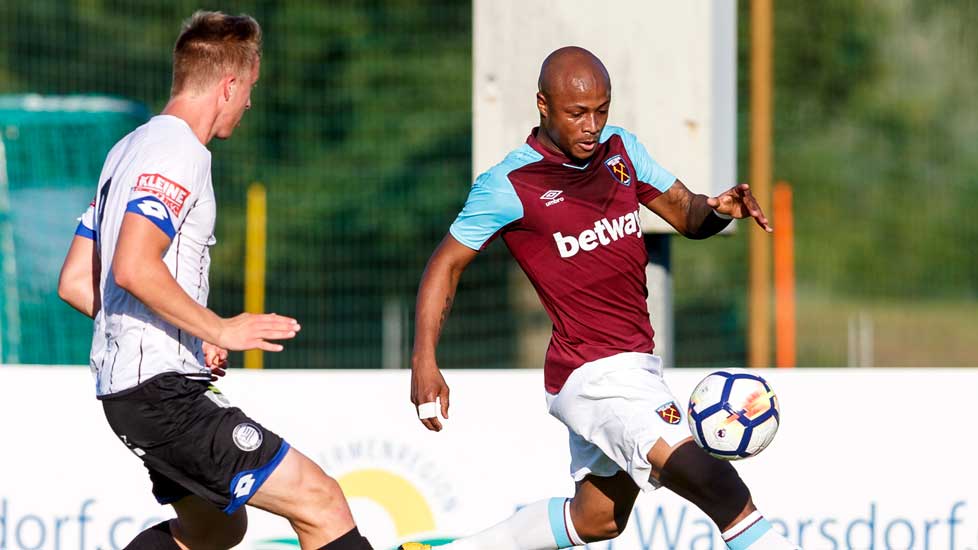 Ayew's form over the closing months of last season marked him out as, arguably, West Ham's most-effective attacking player.
However, the No20 sets high standards for himself and believes there is even more to come should he avoid the misfortune of an injury like the groin problem he suffered at Chelsea on the opening day of last term.
"I think I was getting there [to my best form]," he confirmed. "It was not my optimum, but I was getting there bit by bit by playing games. For me, it was a shame the season came to an end because I was starting to feel better after my injury."
We're working hard here, trying to get fit, working together and getting to know each other, so it's sweet

Andre Ayew
With a decade of experience at the highest level behind him, Ayew is savvy enough not to be drawn into setting exact targets for himself or for the team, instead urging the Hammers to 'stay humble' and approach a testing Premier League campaign one game at a time.
However, it would certainly be fair to say that he is feeling optimistic.
"We have another season coming up and we have a lot of objectives ahead of us that we want to achieve as a squad," he concluded.
"So, I need to continue working hard and doing what we were doing at the end of last season and I'm sure I will get back to my best physically and everything will be OK."