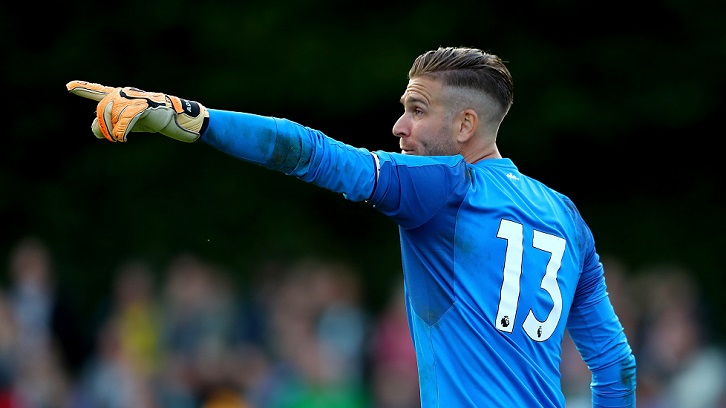 Adrian admitted to having mixed feelings after producing a wonderful individual performance in West Ham United's 1-0 Betway Cup first leg defeat by Werder Bremen.
The Spanish goalkeeper was at his brilliant best in the German town of Scheverdingen, producing four fantastic saves to keep the Hammers in the tie ahead of Saturday's second leg.
While the arrival of England's No1 Joe Hart has added competition for the same job at West Ham, Adrian reminded everyone why he is so highly-rated and so beloved by the Claret and Blue Army.
After being beaten by Johannes Eggestein's accurate finish, the 30-year-old took centre-stage, saving superbly from Aron Johannsson and Niklas Schmidt before half-time, before producing a miraculous double stop to deny Schmidt and Gondorf late on.
"Of course, I will always try to help my teammates with saves when I play and to keep the game open," said the popular goalkeeper. "But, at the end of the day, we lost the game and we are not happy with that result.
"Personally, with my performance, I could do nothing more. The goal was so quick, a quick ball to the striker and he passed it into the corner of the net via the goal post, so I had no chance. Then we had a good chance before the end of the first half to draw level at one-one with Pedro Obiang.
"In the second half, we played with more tempo and intensity but at the end of the day we had no clear chances to score a goal in the second half and we needed to be a bit more clinical, so we will work in the training to do this in the next one."
Adrian has been his normal committed, enthusiastic and intense self in training, giving his all in Chris Woods' sessions alongside Hart and Latvian youngster Rihards Matrevics.
In typical fashion, the Seville-born star is not letting the arrival of a rival for his position in the team to get him down. Instead, he has welcomed Hart and the pair are working effectively together, sharing their experiences and jokes and training with smiles on their faces.
"We are training very well and working hard, as we have from the beginning of the pre-season," he observed. "Everyone is excited for the season, so we will try to give our best always when we play together. This is pre-season and we have time to learn to make no more mistakes and to win games.
"Joe is a great 'keeper and is an international for England he brings great competition. He is a great worker and, like everyone, we are both training very well.
"We have a lot of competition in goal this season, so I will try to give my best and we will see the manager's decision."