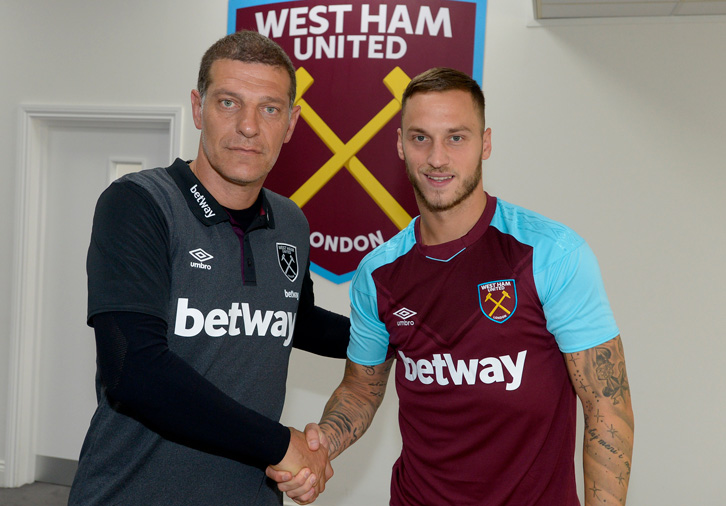 Slaven Bilic hailed the arrival of Marko Arnautovic as a 'massive' one for the Club after the Austrian international sealed his move from Stoke City on Saturday.
28-year-old Arnautovic has established himself in the Premier League across four years with the Potters and Bilic is looking forward to tapping into his experience of English football at his new home.
The manager says it is the Hammers who will benefit from Arnautovic's prime years as he continues to build his squad for the new campaign following the earlier arrivals of Pablo Zabaleta and Joe Hart.
"It's a great thing for the Club," Bilic said. "It's a big signing – he is a massive player who knows the league, which is very important.
"He is in his best age, he is very motivated and I know him very well. He is a top player and he can play all across the front line, so he is a great signing for the Club.
 "Like everybody else he has to prove himself, but I expect him to and he comes into the category of players who don't need to adjust a lot to the league because he has been here for four years.
"He became one of, if not the, best and most important Stoke players. Stoke is good club, so with all that and knowing that today it's not easy to get top players, it makes it a great signing for us."
He is a top player and he can play all across the front line, so he is a great signing for the Club

Slaven Bilic
Bilic says the signings of Arnautovic, Hart and Zabaleta have crossed off three of his major targets and he is delighted at getting the majority of his business complete at an early stage of pre-season.
He added: "I said at the end of last season that we don't need squad players, but we need top players, the players who are going to improve the first eleven, and when I say the first eleven that means the 14 or 15 you need for that game and the game after.
"The players we have brought in are those kind of players. Joe Hart, Pablo Zabaleta and Marko Arnautovic, they are the players who can bring the quality to our team.
"Then with those players, the young ones will flourish because they are going to learn from them and it will ease the pressure on them.
"Now, the majority of that is done, so congratulations to the Chairman, to the Board. They have done brilliantly and people from other clubs have recognised it.
"You never know how it is going to click, but we can for sure say we have done well. Also, it is important that we have done it early enough in the transfer window.
"It's a massive achievement – it's not easy, but we have done it."