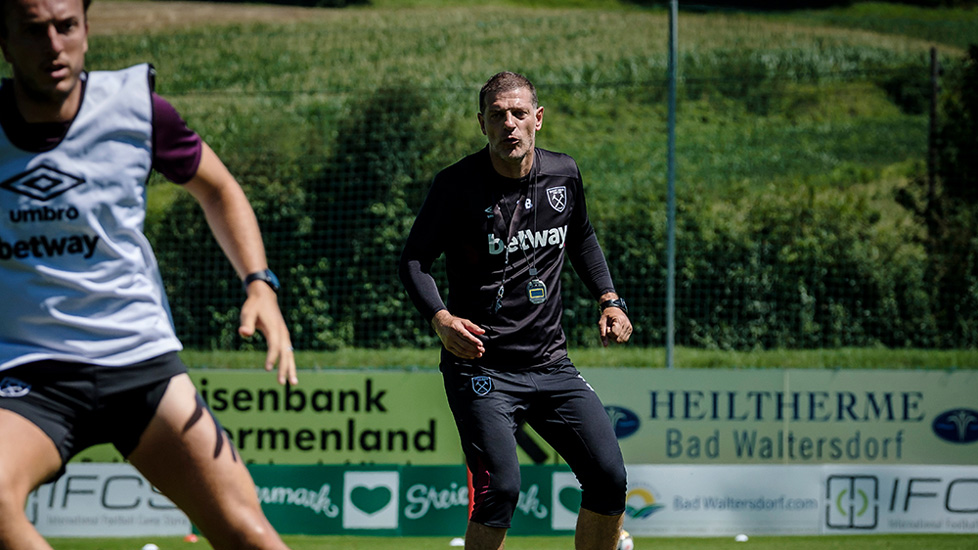 Slaven Bilic says he is confident of adding one or two influential new players to his squad in the very near future.
Joint-Chairman David Sullivan and Head of Recruitment Tony Henry have been working tirelessly behind the scenes to capture the manager's primary targets and, with a month to go until the 2017/18 Premier League campaign kicks off, Slaven is happy with how things are progressing.
"We are pretty close, but I prefer not to talk transfers, I prefer to work transfers," said the Hammers boss.
"Make no mistake, we are working hard every day, but it is not easy. Some clubs, like Everton, are signing a lot of players, some are signing a couple of players, and some haven't signed any.
"But that doesn't mean they are not trying. I'm sure everybody is working, and everybody is trying to sign players."
Slaven also emphasised the approach of the Club in this summer's transfer window to place quality above quantity, and the need to remain patient in order to ensure that any new recruit is right for West Ham United and will improve not just the squad, but the starting line-up.
"It is important to remember that, towards the end of last season, we played without nine players who were injured, and still to be fair we did quite well, points wise and performance," he said.
"So we have a squad. What we want is to bring in the quality that is going to improve our first 11. We have Pablo [Zabaleta] and I am really expecting to add a couple more soon.
"Everybody is talking about a striker, but it is very hard to find them," added the Croatian. "We are working on it, but we are not going to get someone that we are not sure about.
"Especially as we are not looking at bringing them in to be just in or around the squad, or expect them to come good in a couple of years.
"We want someone to come in, put the jersey on, and play. And we are going to do it. We are working very hard, especially the chairman, but we are going to get someone that we really want."