Ashley Fletcher admits he is dreaming of scoring his first Premier League goal for West Ham United at his former club Manchester United on the opening weekend of the new season.
The 21-year-old striker, who progressed through the youth ranks at Old Trafford before heading to London Stadium a year ago, is eager to build on the progress he made during his debut campaign and focused on his ambitions for 2017/18.
"Last year was more of a settling-in period for me," says Ashley. "Obviously moving down to London from Manchester, new surroundings and playing Premier League football was a massive jump for me.
"This year I've set myself goals – I want to get as many games as possible and I want that first Premier League goal, which is always in my mind.
"I scored at Old Trafford in the EFL Cup last season and missed a good chance in our league game up there – hopefully we can go up there and do the business on August 13, and to score would be very special."
It was in Austria exactly 12 months ago that Ashley made his first impressions in a claret and blue shirt – scoring in friendlies against FC Slovacko and Karlsruher.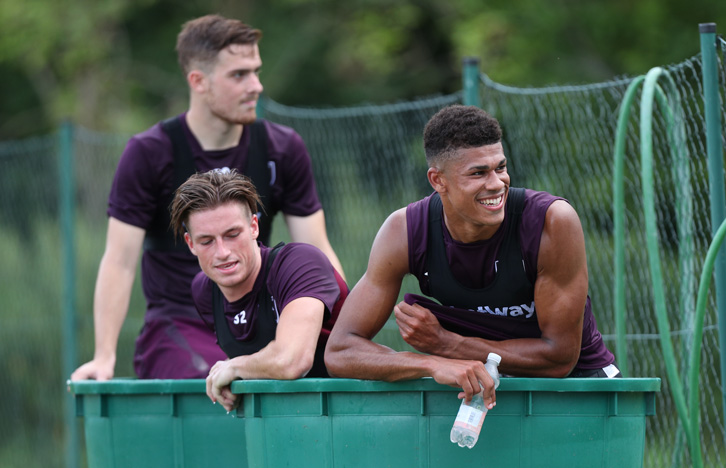 And as the Hammers prepare to face Sturm Graz B and Fulham in warm-up encounters next week, the 6'5'' centre-forward is hoping to repeat the feat, while continuing the tough and demanding training schedule that remains the priority in preparation for the Premier League kick-off next month.
"I managed to get a couple of goals in pre-season last year," he says, "and that kind of set the platform for me getting some game time at the beginning of the season.
"Hopefully, I can do the same again – get a couple of goals and impress the manager and coaches, and see where that takes me.
"First and foremost it is about building fitness, though. Austria is the ideal place to come for pre-season. It's very warm and the air is thin so we work hard. To come here for a good eleven days of training and a couple of games also will stand us in good stead for moving on to Germany and looking ahead to the new season
"There are no distractions. We can focus completely on training and getting the rest we need, which is going to benefit us in the long run."
This year I've set myself goals – I want to get as many games as possible and I want that first Premier League goal, which is always in my mind.

Ashley Fletcher
The training camp – with injured players included – has also given the entire squad the opportunity to work together and further strengthen team spirit, something Ashley believes will prove hugely valuable going forward.
"Keeping the squad as a tight group is always beneficial," he says. "You never want to lose that togetherness that we had last year.
"There were some difficult times last season when we battled through as a group, and it is important to keep that spirit going into the new season."
Ashley Fletcher is wearing the new West Ham United training range. Click here to buy now!