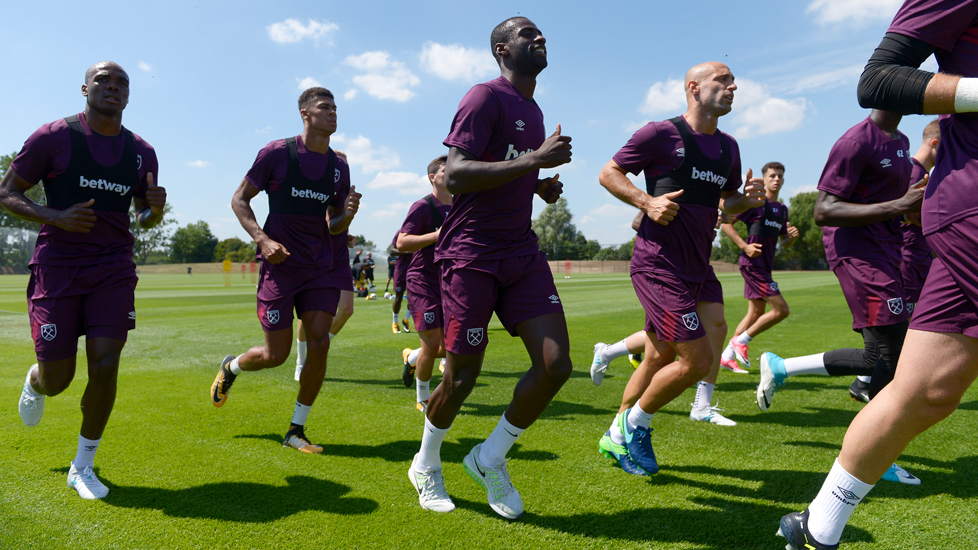 West Ham United's pre-season preparations stepped up a gear on Monday morning, as Slaven Bilic and his players and backroom staff flew to Austria for an 11-day training camp.
The trip marks the beginning of an almost four-week long European tour in the build-up to the start of the 2017/18 Premier League campaign, with another training camp scheduled in Germany from July 24 to August 2, followed by a final warm-up friendly against Manchester City in Iceland on August 4.
With the exception of Jose Fonte, whose Confederations Cup campaign with Portugal only ended last week, every member of the first-team squad boarded the plane to Vienna, including those who will continue injury rehabilitation while away.
After touching down in the Austrian capital on Monday afternoon, the Hammers will head to the picturesque setting of Bad Waltersdorf, a municipality in the district of Hartberg-Fürstenfeld in Styria, where they will be based for the entire duration of the trip.
The location has been used by the Club in the past, while Austria has been the pre-season destination of choice for many Premier League clubs in recent years, with its tranquil surroundings and mountainous terrain providing the perfect environment for the players' physical fitness work and conditioning at altitude.
With an average elevation of 910 metres above sea level across the country, compared to just 162m in the UK, the players' muscles will be forced to work harder to take in oxygen, producing more red blood cells and allowing more oxygen to be distributed around the body when returning to compete at a lower altitude.
Double training sessions mean that the players will be working extremely hard throughout the first seven days in Austria, while two low-key opening training matches are planned for the second week, against a Sturm Graz B team on Monday and a Fulham side on Thursday.
The camp will also enable the squad to spend valuable time together, with team bonding exercises planned and the players and staff eating all meals together as a group.
New Head of Medical Services, Gary Lewin, who will play a key role in managing the individual needs of each player, explained recently why the trip to Austria will be of such great benefit to the entire squad.
"It's such a great environment," said the former England Head Physiotherapist. "The facilities and hotels are always very good, the pitches are a good standard but, more importantly, you can isolate the team, so that you can purely focus on pre-season and football.
"It also means that we can take our injured players with us – we are not isolating them from the main squad and, although they will be integrated back into training at different times, they will essentially have been a part of the same programme.
"This year we can set in stone what we are doing, and have a pre-conceived plan all the way through to the first Premier League fixture. We can all be on the same page, with the same levels of fitness and, hopefully, have everyone relatively injury-free and ready to go."