West Ham United welcomed the winners of the 2016-17 Lycamobile Cup to Rush Green on Friday.
Youngsters from U14 champions Great Baddow High School in Essex and U12 winners St Mary Magdalene Academy in Islington enjoyed a once-in-a-lifetime training session at the first-team training ground.
Then, to complete a memorable morning, the two teams met Adrian, Sam Byram, Angelo Ogbonna, Ashley Fletcher and Reece Burke for a photoshoot, selfies and autographs.
Great Baddow captain Archie Wood and St Mary Magdalene skipper Sean Chambers-McIntosh introduced their respective teams to West Ham TV before explaining how they had lifted the Lycamobile Cup.
"It was good to get an opportunity to meet the players, as it's not every day you get to do that," said Hammers fan Wood. "It's crazy how good the pitches are, too.
"We came second in our qualifier, but we won the finals at London Stadium by six points, so we did really well. As a team, we like to move the ball and create good goals!"
"It was very exciting and a great experience, although I was a bit nervous taking pictures with the players!" said Chambers-McIntosh. "Our journey here has not been easy, but I think we deserve to be here because we've played some spectacular football!"
It was very exciting and a great experience, although I was a bit nervous taking pictures with the players!

St Mary Magdalene Academy captain Sean Chambers-McIntosh
Launched in 2013 by Lycamobile and the West Ham United Foundation, the tournament saw 84 year 7 and 9 teams from secondary schools and community centres compete in regional competitions before triumphing in finals at the London Stadium Community Track in June.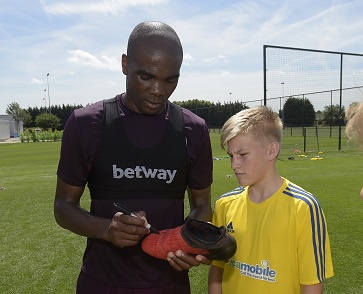 West Ham United Foundation Chief Executive Joseph Lyons said the Club was delighted to be part of such an inclusive scheme involving hundreds of youngsters from across London and Essex.
"We are delighted to be able to reward the two victorious teams with a visit of a lifetime to Rush Green, giving them an opportunity to meet the players and provide them with some inspiration to reach their goals," said Lyons.
"It's been fantastic to watch the Lycamobile Cup grow over the last four years, and it has truly caught the imagination of our local youngsters. I look forward to continuing our work with Lycamobile, and watching the tournament grow from strength to strength in the years to come."
Lyca Group Chairman Allirajah Subaskaran congratulated the winners and said the organisation is already looking forward to the 2017-18 Lycamobile Cup, which kicks-off in October.
"It has been a privilege to be a part of this year's Lycamobile Cup, an initiative that seeks to bring people together to support and celebrate young sporting talent in the community. Congratulations to the winners of this year's tournament.
"We look forward to next year's competition and continuing our work with the West Ham United Foundation."