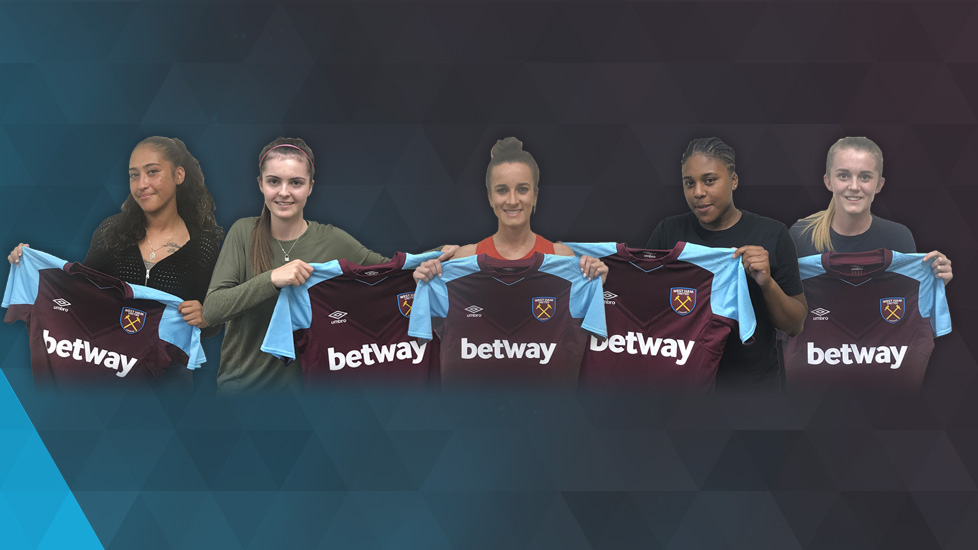 West Ham United Ladies' preparations for the new campaign continue at great pace with five players committing their futures to the Club this week, hot on the heels of Amber Stobbs' arrival from Everton.
Amy Cooper, Dayna Chong and Chantelle Mackie have all re-signed for the Hammers after impressing in claret and blue last term, while Molly Peters makes the move back to the Hammers after spending four months at Arsenal in 2016/17 and Paige Anderson-James rejoins the Club following a year out.
General Manager Karen Ray is delighted to secure the quintet's signatures, saying: "We are delighted to sign five very talented players. Each of them brings their own individual brilliance to a very exciting team and all have an immeasurable amount of potential. We will work tirelessly to ensure they develop in a challenging environment.
"It is important that every player has ambitions that match the Club's and I have no doubt that Amy, Dayna, Molly, Chantelle and Paige have very exciting futures ahead of them. I speak on behalf of all the staff when I say that they are a pleasure to work with and great people."
The five are all familiar faces at the Hammers, having all played for the Club in recent times.  Cooper captained the Hammers last term after making the short move across from Tottenham Hotspur, impressing both on and off the pitch with her professionalism and work rate.
She commented: "I'm very happy to be part of the West Ham Ladies journey with such a young, growing team operating in a professional environment. After the improvement we showed towards the end of last season and with new players joining the squad I am excited to see our success grow."
Chong beat Manuel Lanzini to land the whufc.com Goal of the Month prize in March and she previously played for Millwall and Tottenham, where her ability to leave opponents bamboozled with her footwork came to the fore.
She added: "I am delighted to be re-signing for the club. The team have developed a lot under the new staff and I am excited to see what the future holds for us. As the club grows so does the competition for a spot on the team so I am honoured to be offered a contract."
We are delighted to sign five very talented players and each of them brings their own individual brilliance to a very exciting team

Karen Ray
Attack-minded full-back Mackie turned down offers from WSL clubs to commit herself to the Hammers for a second season, choosing to be part of the Club's ambitious plans to move towards the top of the women's game.
Mackie said: "I'm excited to be given this opportunity and can't wait to be a part of the West Ham Ladies future. I'm looking forward to seeing what the season brings!"
Peters, a prolific striker who spent four months of last season with Arsenal, is an exciting young player who has returned to the Hammers and is tenacious, quick and difficult to defend against.
She said: "I'm over the moon to be offered a contract with West Ham Ladies. It just shows how hard work pays off, but the hard work doesn't stop now. I would just like to say thank you to all the staff that believed in me and offered the contract to me."
Anderson-James, meanwhile, took last season out but has returned as the Hammers build for their FA Women's Premier League South Division campaign.  She is a powerful striker who also possesses incredible ability on the ball.
She commented: "After taking a year out I knew I didn't want to return to any other Club. This Club is like a family and I'm really grateful to the players and staff for putting their trust in me. There's quality on and off the pitch here and the ambitions match my own."