Thank you to @Noble16Mark for taking the time to come and watch me spar last night. 12 rounds in the bank ??⚒ #July8th #TheHammer pic.twitter.com/Y8bbKvcmec

— Sammy McNess ⚒ (@Sammcness) June 28, 2017
Undefeated Hammers-mad boxer Sam McNess has taken inspiration from West Ham United captain Mark Noble ahead of his first title fight.
Whitechapel-born McNess challenges Asinia Byfield for the Southern Area super welterweight title on Saturday at the Copper Box Arena, just a short training run from West Ham's London Stadium home.
In preparation for the bout, the Season Ticket Holder welcomed skipper Noble to his training camp at the renowned Peacock Gym in Canning Town, yards from the former site of the old Thames Ironworks and Shipbuilding Company.
"Mark said he would like to come and watch me train a while back," McNess confirmed. "I sent a broadcast message on WhatsApp asking if anyone wanted to come and support me in the fight and he replied saying he wanted to buy four tickets, so he will be there on Saturday
"There will be a lot of support for me and it'll be very noisy. When I was in the ring at the Copper Box for my last fight, everyone was singing Bubbles and obviously the venue is right next to our ground, so it's a great place for me to fight!
"Mark then messaged me again asking if he could come down to the gym, so he came down and spent about two or three hours with us. He's such a nice person and it's great to have his support."
For a childhood Hammers fan, having the Club captain in his corner is something to be proud of.
Mark messaged me again asking if he could come down to the gym, so he came down and spent about two or three hours with us

Sam McNess
"I got a follow from a Mark Noble on Twitter about a year ago and I looked at the profile and thought 'Hold up, this is THE Mark Noble!'" he recalled. "I followed him back, then met him at the Boleyn Ground when my sponsor had a Box and voted him Man of the Match.
"Mark spotted me in our group and I was quite shocked! We exchanged numbers and we've been friends since then."
Noble is not the only famous Hammer in McNess's corner, as Joint-Chairman David Sullivan and son Jack attended his victory over Zaurs Sadihovs at the Copper Box in May.
Should he extend his record to 8-0, the Romford-based boxer is hoping to follow in the footsteps of former Hammers-supporting greats like Frank Bruno, Lennox Lewis, Mark Kaylor and Kevin Mitchell, among others.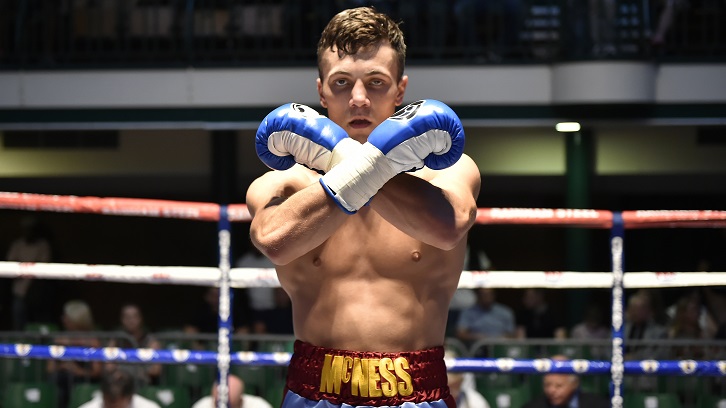 "I've got a big fight coming up on Saturday which, if I progress through, then my career with take off to a different level and I'll push on to fight for other titles," said the 25-year-old former amateur champion, who has won his first seven professional fights.
"I'm fighting for my first title in my eighth fight against the current champion from Reading, who has a record of 13 fights and one loss. He's been mouthing off a bit on social media and my fans, who are also West Ham fans, have been going back at him, so it should be a really good fight, a good night and I'm looking forward to it!
"Boxers like Mark and Kevin had great followings and I think it's something about coming from east London, because we just love our boxers and are home to some of the best gyms, clubs and venues in the country. West Ham and boxing just go hand in hand."
You can follow Sam McNess on Twitter @Sammcness.