London Stadium stewards are settling into life at West Ham United's iconic new home
Many stewards are Hammers fans who previously worked at the Boleyn Ground
Among them are school secretary Helen Matthews and sales adviser Naveed Zahid
Every London Stadium matchday, around a thousand committed stewards give their all to ensure supporters experience a safe and enjoyable visit.
The team is drawn from across east London and beyond, from all backgrounds and occupations, but all have two goals in mind – customer service and crowd safety.
Employed by stadium operator London Stadium 185, stewards are involved in a wide variety of roles, working on the turnstiles, in the general admission and corporate seating areas and Club London lounges and bars, tunnel and dressing room areas and outside the Stadium on Queen Elizabeth Olympic Park.
Andrew Bracken is an experienced crowd safety professional and one of a group of outstanding safety officers employed to train and manage London Stadium's stewards.
The 33-year-old from north London has enjoyed watching his team grow and settle into life at London Stadium as part of the West Ham family.
"Our staff here have a two-pronged approach – there is a customer service element and a crowd safety element – and they are the only things a steward is responsible for," he explained. "Primarily, it is a customer service role and hopefully the crowd safely element is not required.
"If we can be helping customers get to their seats and helping them deal with any queries that they have, particularly in a new stadium like this, that's what we want them to do."
Primarily, it is a customer service role and hopefully the crowd safely element is not required

Andrew Bracken
Bracken explained every steward is fully trained and either has, or is working towards, the NVQ Level 2 Certificate in Spectator Safety.
"In terms of inclusivity, literally anyone and everyone, male or female, can work in what is a customer service role", explained Bracken
"It's nice to have a diverse team drawing people from all over east London and offering everything great about the local area."
Six months on from moving into London Stadium, Bracken believes the stewards – like the supporters – are starting to feel at home.
"I think we've come on leaps and bounds," he confirmed. "At the start we had the same psychological barriers to overcome as the supporters moving into a new venue which we weren't used to.
"It took time to bed in, but the fans have started to settle in, as have the staff. We're starting to build that rapport that the fans and stewards had at the old ground. Hopefully, that familiarity will breed friendship."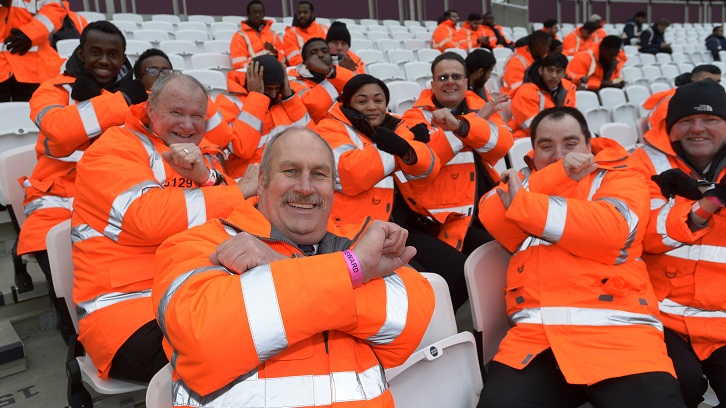 Many of the thousand-plus enthusiastic stewards – the number varies based on a number of match-specific factors – have travelled with West Ham from the Boleyn Ground to London Stadium.
Among them are school secretary and mother Helen Matthews and London City Airport sales adviser Naveed Zahid.
Both are enjoying their new home and encouraged other Hammers fans to join them in caring for the needs of their fellow supporters.
"I come from a family of West Ham supporters and lived locally to the ground in Plaistow, the job was advertised and I've now been stewarding at the Club for 15 years," Matthews, 52, revealed. "I enjoyed it at Upton Park and I've been doing it ever since.
"We have a great relationship with the fans and some of them have even invited me to their weddings and send me Christmas cards! It really is a good job and a fun job.
"Crowd safety is the main priority, as is making sure the fans have the best-possible experience when they come to the match, whatever the result.
"As long as you know nothing untoward has happened in your area and the fans have had a good experience and will enjoy coming back, you can go home happy and take real satisfaction from the job you have done."
We have a great relationship with the fans and some of them have even invited me to their weddings and send me Christmas cards!

Helen Matthews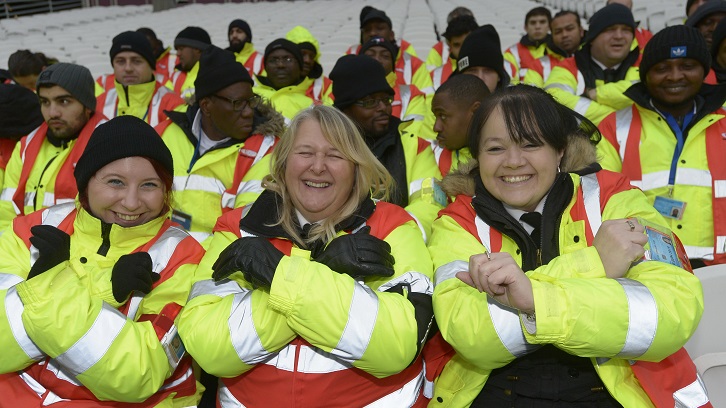 Zahid may be just 23, but he has already been stewarding at Hammers matches for seven seasons, and is looking forward to doing so for many more years to come.
"I really enjoyed my role as a steward at Upton Park and am enjoying it at London Stadium too," he said. "It's a very good opportunity to take on, as you gain a lot of experience from it and can learn a lot from your supervisors and managers.
"I've done my NVQ Level 2 and have an SIA (Security Industry Authority) Licence and am working towards my Level 3 to become a supervisor and then take on a full-time role.
"I enjoy every matchday, getting to know people and the fans. I see a lot of the same people from Upton Park and it's been pleasurable getting to know them again at London Stadium.
"I'm watching the crowd rather than the game, but I do enjoy seeing myself on Match of the Day!"
*If you are interested in becoming a London Stadium matchday steward, please email [email protected] for information about how to apply.