Slaven Bilic has thanked Dimitri Payet for his time at West Ham United
The midfielder was sold to Marseille after stating he no longer wished to play for the Club
The Hammers boss also believes new signings Jose Fonte and Robert Snodgrass are perfect fits for his squad of players
West Ham United manager Slaven Bilic thanked Dimitri Payet for his contributions while at the Club and wished the midfielder all the best for the rest of his career after the Frenchman joined Marseille on Sunday.
Payet was sold to the Ligue 1 outfit for a fee of £25 million after stating he longer wished to play for the Hammers.
And his former boss Bilic stated that although the Club were disappointed with the way in which the 29-year-old departed, his influence in east London will not be forgotten.
"I want to thank Payet for everything he did [at West Ham]," Bilic said. "He was brilliant last year and we were brilliant for him also.
"But that story has now finished. I want to wish him luck and all the best in Marseille.
"I am not going to go deep into what happened. He went and that was his wish. I won't forget how good he was for us and what he achieved with us.
"It was a great story, not only for West Ham but for the Premier League and for France also. I won't forget it just because he's moved. I really wish him well."
"I have said what I said and there has been enough said about Payet. It was the only way for me to act and to defend the team and say everything completely openly as I did."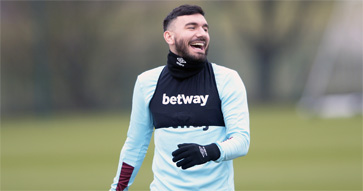 West Ham United moved fast in the January transfer window to secure the signings of European Championship winner Jose Fonte and Scottish international Robert Snodgrass.
And Bilic believes the new members of his squad, both of whom have vast experience in English football, will be perfect fits at London Stadium.
"We are a good Club and it was always like that for new players to come and settle quickly," he continued. "That goes with everyone coming here. It's important for foreign players who come and don't speak the language. But we have always had that and we're well known for it.
"For Fonte and Snodgrass that wasn't necessary. Snodgrass is British and just moved clubs and changed jersey. Fonte, although not English, is as English as a foreign player can be!
"It's ten years here for him. They were reasons why we wanted them. We wanted that core of home-grown players. They clicked immediately. They'll get to know the way we play but they don't need the time to settle and that's brilliant.
"Snodgrass scores goals and that's what we need from players in his position. He is a hard worker and a team player and I expect him to be a great signing for us."